Boomers Fall on Short End of Extra-Inning Pitcher's Duel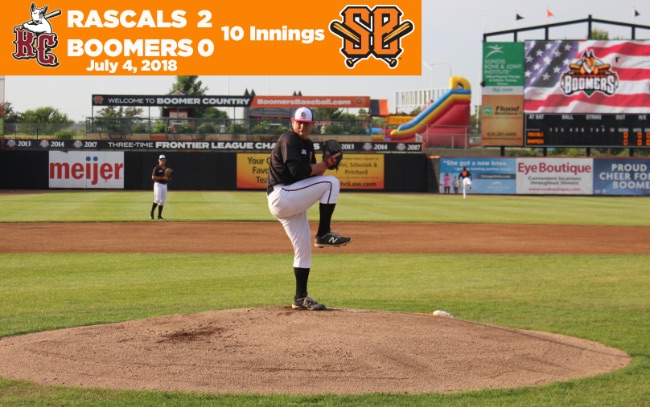 SCHAUMBURG, IL — The defending Frontier League champion Schaumburg Boomers, presented by Wintrust Community Banks, lost in extra innings for the first time this season, suffering a 2-0 defeat in 10 innings at the hands of the River City Rascals before another large crowd.
Gunnar Kines and Josh Kimborowicz went toe-to-toe on the mound in the holiday affair. Kines allowed just one runner to reach second base while spinning seven shutout innings, allowing just four hits to go with seven strikeouts. Kines has struck out 22 in his last three starts spanning 19 innings. The Boomers loaded the bases with one out in the third against Kimborowicz but failed to score. The River City starter went on to retire 14 of the final 15 batters in a seven-inning effort with six strikeouts.
The lone runs of the game scored in the top of the 10th inning. Following a leadoff walk and a sacrifice an infield hit followed by a throwing error enabled the first run of the day to score. Schaumburg was limited to just three hits in the defeat. Chris Hall struck out three in two scoreless innings. Mitch Schulewitz suffered the loss, his first of the year.
The brief three-game homestand comes to a close on Thursday night at 6:30 p.m. on Superhero Night Returns! The contest will also serve as a Thirsty Thursday with drink specials. The Boomers (24-22) will send RHP Keaton Conner (0-0, 4.36) to the mound against Ryan Orr (0-1, 3.00) in a matchup of former NCAA Division III hurlers. Make the Boomers part of your plans this summer by calling (847) 461-3695.