Seven-Run Second Propels Boomers to Series Win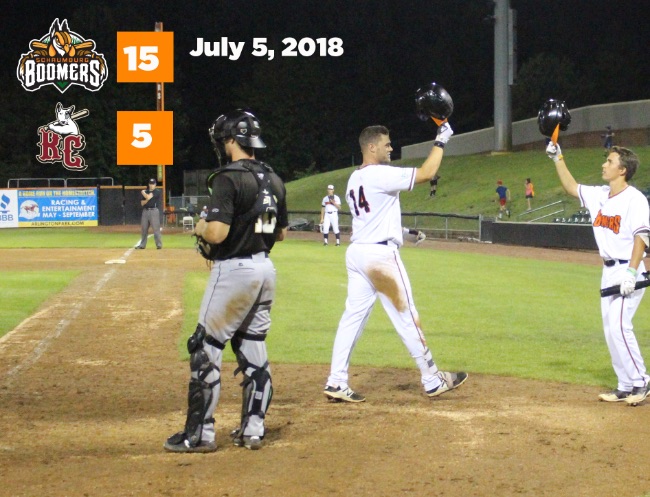 SCHAUMBURG, IL — The defending Frontier League champion Schaumburg Boomers, presented by Wintrust Community Banks, scored seven runs in the bottom of the second and rolled to a 15-5 win over the River City Rascals to take the series on Thursday night.
Ty Moore kicked off the scoring in the bottom of the first inning with an RBI triple, his sixth of the season. Kenny Towns tacked on an RBI single in the inning to make the score 2-0. Former Boomer Paul Kronenfeld evened the game in the top of the second with a two-run homer before the Boomers broke out the offense in the second inning. After scoring just three runs on 11 hits over the past three games, Schaumburg scored seven times on six hits and sent 12 to the plate to gain control. Moore nailed a two-run homer in the inning while Jack Parenty, Sean Godfrey and Dylan Jones added RBI singles. The seven runs matched the most in an inning this year.
Another crooked number in the fifth put the game away after River City scored three times in the top of the inning to end the outing for starter Keaton Conner after 4.2 innings. Collin Ferguson blistered a three-run double in the frame with Godfrey adding an RBI single and Zack Weigel an RBI double. Ferguson added a solo homer in the seventh and finished with four RBIs.
Every member of the lineup posted a hit as the Boomers tallied 16. James Keller, Josh Gardiner, Parenty, Godfrey, Moore and Ferguson tallied two hits apiece. River City used seven pitchers in the contest. James Mulry earned the win in relief, improving to 2-0 on the season with 2.1 scoreless innings of work.
The Boomers (25-22) hit the road on Friday for a three-game series with the Normal CornBelters before the All-Star break. RHP Will Stillman (0-1, 11.37) makes the start against RHP Mark Hendricks (0-1, 3.04). Schaumburg is not home again until July 20. Make the Boomers part of your plans this summer by calling (847) 461-3695.