Beach Bums Swing Past Boomers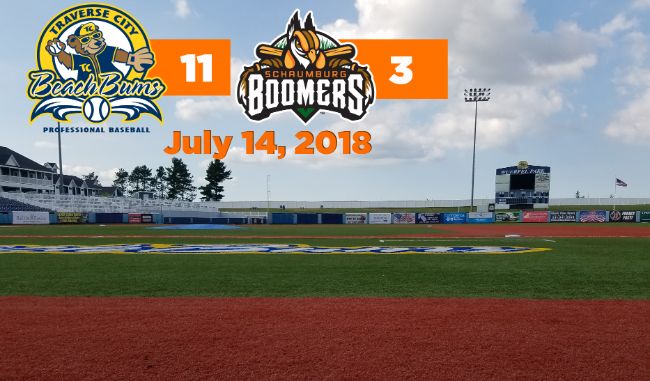 TRAVERSE CITY, MI — The defending Frontier League champion Schaumburg Boomers, presented by Wintrust Community Banks, dropped the middle game of a weekend series in Michigan, falling by an 11-3 score to the Traverse City Beach Bums.
Schaumburg jumped ahead for the second consecutive night in the top of the first. Jack Parenty led off with a single and Sean Godfrey was hit by a pitch to follow. Zack Weigel singled to deep right and Parenty came in on an error. Traverse City sent 10 men to the plate in the bottom of the inning, scoring six times to grab the lead. Will Kengor hit a go-ahead two-run homer and Luke Lowery followed with a solo blast to set the tone. Schaumburg added runs in the second and third on a Godfrey infield hit in the second and a Collin Ferguson homer in the third, but the Beach Bums batted around again in the fifth to put the game away, tacking on four more runs.
Will Stillman suffered the loss on the mound, allowing seven runs in four innings. Dylan Stutsman tossed two frames with Mitch Schulewitz working the final two. Schulewitz retired the final six batters. Nine different individuals tallied hits in the contest.
The Boomers (27-25) will play another rubber contest on the road Sunday night at 4:05 p.m. with LHP Gunnar Kines (3-1, 4.42) on the mound opposite Traverse City All-Star RHP Jordan Desguin (6-2, 2.56). Schaumburg return home on July 20. Make the Boomers part of your plans this summer by calling (847) 461-3695.