Boomers Pitch Past Belters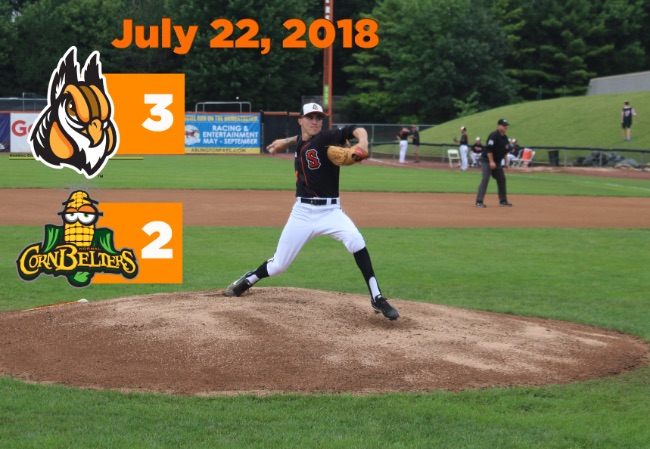 SCHAUMBURG, IL — The defending Frontier League champion Schaumburg Boomers, presented by Wintrust Community Banks, threw a combined four-hitter to score a 3-2 decision over the Normal CornBelters at home and win the series on Sunday afternoon.
Schaumburg scored in the first inning for the third straight game in the series whenJack Parenty drew a leadoff walk and Sean Godfrey was hit by a pitch. With two outs, Kenny Towns singled home the first run of the game. Normal tied the score with a single tally in the top of the third against Schaumburg starter Payton Lobdell. Towns plated Ty Moore with an RBI single in the bottom of the inning to put the Boomers ahead for good. Zack Weigel added an RBI single in the fourth. Normal scored in the fifth but left the tying run in scoring position in the fifth and sixth.
Lobdell won his second start of the week, evening his record at 4-4, by tossing six innings and allowing two runs on four hits. The bullpen faced the minimum over the final three with Chris Hall striking out the final two batters to collect his third save of the season. Mitch Schulewitz and Ivan Vieitez bridged the gap. Towns finished with two hits and two RBIs. The Boomers notched six hits but drew seven walks and were hit twice to match last season's hit by pitch total for the entire year.
The Boomers (32-27) are five games over the .500 mark for the first time this year. Following a day off on Monday the season will continue with a seven-game roadtrip spanning six days. The first contest takes place at 10:35 a.m. on Tuesday at Windy City with RHP Kit Fowler (0-4, 5.40) on the mound. Schaumburg returns home on July 31. Make the Boomers part of your plans this summer by calling (847) 461-3695.