Boomers Open Morning String with Third Straight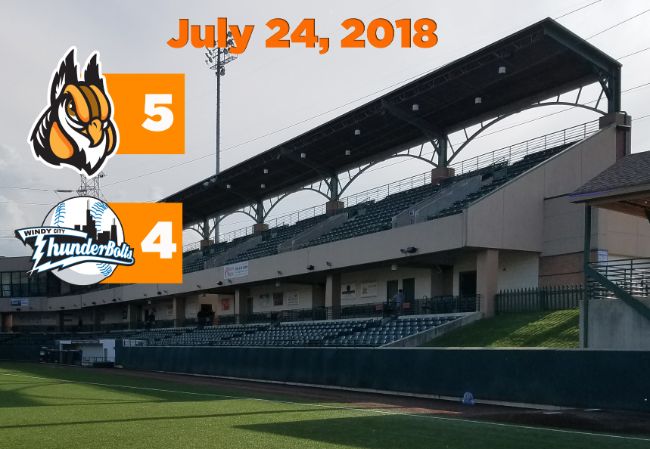 CRESTWOOD, IL — The defending Frontier League champion Schaumburg Boomers, presented by Wintrust Community Banks, opened a string of three consecutive morning games on the road with a 5-4 decision over the Windy City ThunderBolts, the team's third straight victory and sixth in the last seven.
The Boomers rallied from a pair of one-run deficits in the contest. Windy City scored a run in the bottom of the first against starter Joe Hauser. Schaumburg opened a 2-1 lead behind RBI singles from Sean Godfrey and Ty Moore in the top of the third. Windy City scored a pair of runs to lead 3-2 in the bottom of the frame. Schaumburg tallied three runs in the fifth to take the lead for good. Michael Hartnagel doubled and scored the first run. Godfrey singled home the go-ahead tally and Collin Ferguson added a two-out RBI.
Hauser won his seventh game of the year by working 5.1 innings. Jake Joyce allowed a run in the ninth but stranded the tying run on base to save his 10th of the year. James Mulry and Ivan Vieitez bridged the gap to Joyce. Godfrey, Moore and Hartnagel finished with two hits each as the Boomers notched nine in the win.
The Boomers (33-27) play another early affair on Wednesday morning at 10:35 a.m. against Windy City. RHP Kit Fowler (0-4, 5.40) starts the contest against RHP Zac Westcott (5-7, 3.92) as a seven-game roadtrip continues. Schaumburg returns home on July 31. Make the Boomers part of your plans this summer by calling (847) 461-3695.