Boomers Rally to Fourth Straight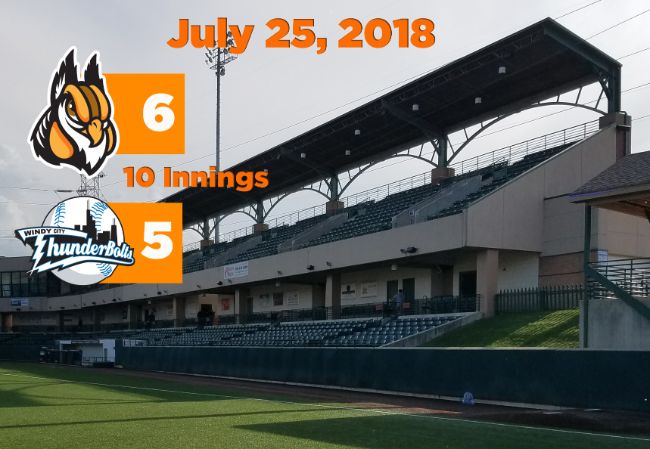 CRESTWOOD, IL — The defending Frontier League champion Schaumburg Boomers, presented by Wintrust Community Banks, rallied from an early three-run deficit to upend the Windy City ThunderBolts 6-5 in 10 innings and win a season high fourth in a row.
Schaumburg jumped ahead in the top of the first inning with two outs. Zack Weigel singled and scored the game's first run on a double from Ty Moore. Windy City responded with two runs in the bottom of the inning and tacked on two more in the second to grab a 4-1 lead against Schaumburg spot starter Dylan Stutsman. The Boomers were able to tie the game by scoring three times with two outs in the top of the third.
Jack Parenty and Dylan Jones singled and both scored when Moore tripled into the right field corner, his seventh of the year to match the single season record. Kenny Towns followed with a single to score Moore. Trailing 5-4, Weigel homered to tie the game leading off the eighth. Darrell Miller, Jr. drove home the winning run in the first road extra-inning game by notching a third straight single in the 10th to score Towns.
Stutsman worked five innings in a no-decision during his first professional start. The bullpen allowed just one hit in five innings of relief as four pitchers combined to hold down Windy City. James Mulry picked up the win in relief, moving to 4-0 by working the ninth. Chris Hall fanned two in the 10th, overcoming a leadoff walk to earn his fourth save in as many attempts. The offense banged out 15 hits. Moore tallied two doubles and a triple to go with three RBIs while Towns also notched three hits. Parenty, Weigel and Miller, Jr. also produced two hits. Parenty has reached in 16 straight while Weigel has been aboard in 15 consecutive contests.
The Boomers (34-27) have come from behind to win in 17 of the club's victories this year. The series concludes on Thursday with a split doubleheader at 10:35 a.m. and 7:05 p.m. RHP Kit Fowler (0-4, 5.40) is scheduled to start the first game against LHP Connor Bach (2-1, 4.36) as a seven-game roadtrip continues. Schaumburg returns home on July 31. Make the Boomers part of your plans this summer by calling (847) 461-3695.