Homers Lift Boomers to Comeback Victory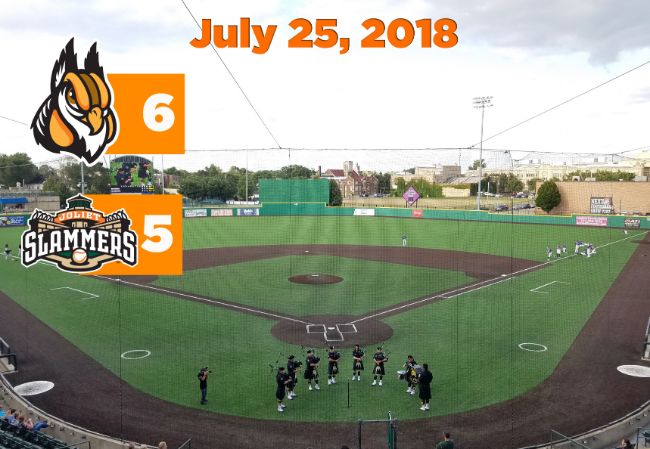 JOLIET, IL — The defending Frontier League champion Schaumburg Boomers, presented by Wintrust Community Banks, connected on a pair of late-inning homers to score a 6-5 win over the East Division leading Joliet Slammers on the road Friday night.
Ty Moore led off the top of the ninth with a solo homer to right against former Boomer Isaac Sanchez to account for the victory. Nick Oddo tucked a homer inside the right field pole with two outs in the seventh to tie the game as the Boomers rallied from a pair of two-run deficits. Moore put Schaumburg ahead in the top of the first with an RBI double to score Zack Weigel. Joliet responded with three in the bottom of the inning, two of which came on a homer from RJ Thompson. Schaumburg rallied to tie the game in the top of the fifth on a two-run double from Darrell Miller, Jr.
Gunnar Kines started and worked five innings, striking out five in a no-decision. The bullpen combined on the final four innings without allowing a run. Jake Joyce induced a double play to end the game with the tying run in scoring position and the winning run on base. Ivan Vieitez picked up his first win. Mitch Schulewitz struck out the side in the seventh. Moore notched four hits, scored twice and drove home two as the Boomers finished with 13 hits. Jack Parenty has reached base in 19 straight, matching the longest streak of the year. Weigel has reached in 18 consecutive. Schaumburg owns 18 victories in comeback fashion this season.
The series and seven-game roadtrip continue at Joliet on Saturday night at 6:05 p.m. with a matchup of All-Stars. RHP Payton Lobdell (4-4, 2.34) starts for the Boomers (35-29) with Joliet (36-28) sending RHP Liam O'Sullivan (6-3, 3.15).
Schaumburg returns home on July 31. Make the Boomers part of your plans this summer by calling (847) 461-3695.