Boomers Strand 14 in 4th Straight Loss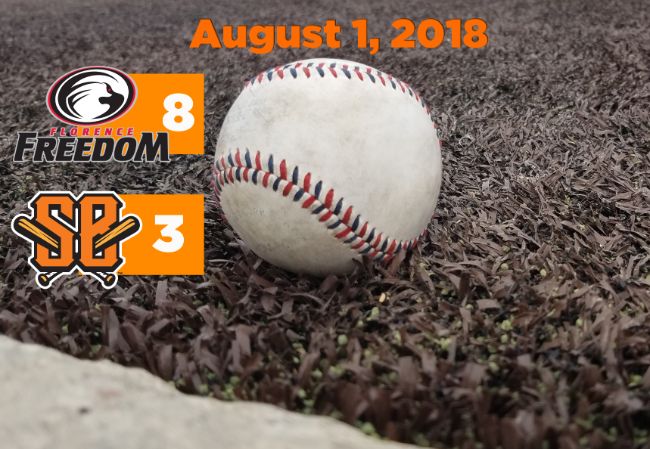 SCHAUMBURG, IL — The defending Frontier League champion Schaumburg Boomers, presented by Wintrust Community Banks, left 14 men on base in dropping an 8-3 contest at the hands of the Florence Freedom, the team's fourth consecutive loss.
Florence scored the first five runs of the game. Skyler Ewing hit a three-run homer in the top of the first to open the scoring. Schaumburg plated two runs in the bottom of the second to pull within 5-2 on a sacrifice fly from Darrell Miller, Jr. and an RBI single from Jack Parenty. Starter Kit Fowler settled down, retiring 12 in a row, but the Boomers could not find a way to drive home runners despite having chances in eight of the nine innings.
The Boomers finished with 15 hits in the defeat. Parenty tallied four at the top of the lineup and has hit safely in nine straight while reaching base in 23 consecutive contests. Miller, Jr. racked up three hits. Fowler took the loss, allowing four earned runs in 6.2 innings of work.
The Boomers (35-33) are in the midst of a crowded playoff race in the Frontier League. The series will come to a close at 6:30 p.m. on Wednesday night on Princesses and Pirates Night. LHP Gunnar Kines (4-1, 4.36) takes the ball for the Boomers against RHP Steve Hagen (6-5, 3.96). Make the Boomers part of your plans this summer before it is all gone by calling (847) 461-3695.