Big Inning Drops Boomers in Opener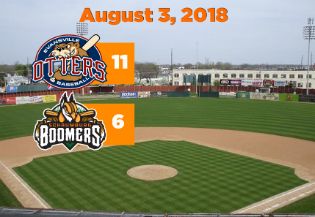 EVANSVILLE, IN — The defending Frontier League champion Schaumburg Boomers, presented by Wintrust Community Banks, could not hold a pair of leads as the Evansville Otters tallied six runs in the fourth to rally to an 11-6 win in the opener of a weekend series on the road Friday night.
The Boomers opened a 2-0 lead in the top of the first without a hit, taking advantage of three errors. Evansville responded with three in the bottom of the frame against starter Payton Lobdell to take the lead. Ty Moore tied the game with an RBI double in the top of the third before scoring on an error to give Schaumburg the lead. Evansville tabbed six runs in the fourth to take control. Jeff Gardner connected on the big blow, a grand slam with two outs. Gardner added another homer in the sixth, a two-run shot.
Lobdell worked 3.1 innings and suffered the loss. The Boomers totaled 10 hits in the defeat. Moore notched his fourth multi-hit game of the week and fifth in a row overall by picking up three hits while reaching four times and driving home a pair. Sean Godfrey homered in the ninth. James Keller appeared on the mound, becoming the first position player to appear on the mound in a contest since 2015. Keller twirled a scoreless eighth.
The Boomers (36-34) are in the midst of a crowded playoff race in the Frontier League. The series will continue tomorrow night at 6:35 p.m. RHP Joe Hauser (7-5, 3.78) takes the ball for Schaumburg in the middle game against LHP Spencer Medick (2-1, 2.84). Make the Boomers part of your plans this summer before it is gone by calling (847) 461-3695.