Boomers Can't Overcome Early Hole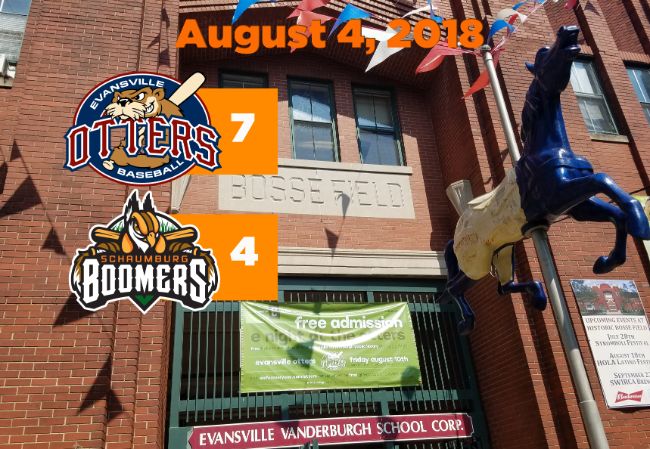 EVANSVILLE, IN — The defending Frontier League champion Schaumburg Boomers, presented by Wintrust Community Banks, could not overcome an early 7-0 deficit in dropping the middle game of a weekend series on the road to the Evansville Otters by a final score of 7-4.
Schaumburg saw the first two batters of the game reach base but did not score. Evansville responded by scoring four times in the bottom of the inning, taking advantage of a pair of walks and a hit batter to start the inning. The Otters added three more in the bottom of the second before starter Joe Hauser settled down. Hauser worked into the eighth, providing his team a chance to rally. Clint Hardy doubled home the first two runs in the fourth. Hardy was activated from injured reserve before the contest. The Boomers added two more in the sixth and brought the tying run to the plate. Collin Ferguson led off the inning with his fifth homer of the year and Jack Parenty added an RBI single.
Hauser threw 7.1 innings but suffered the loss, walking five and striking out four. The righty did not allow a run over his final 5.2 innings and finished with 132 pitches. Schaumburg totaled 11 hits in the loss, three from Hardy and Parenty. Zack Weigel reached base to extend his on-base streak to 25 games, second longest active streak in the league.
The Boomers (36-35) continue to battle in a crowded playoff race in the Frontier League. The series concludes on Sunday afternoon at 2:05 p.m. as the six-game roadtrip presses on with RHP Chris Powell (0-2, 3.46) on the hill against RHP Randy Wynne (5-7, 3.61). Schaumburg returns home for a nine-game homestand on August 10 for Star Wars Night. Make the Boomers part of your plans this summer before it is gone by calling (847) 461-3695.