Boomers Blanked in Finale at Evansville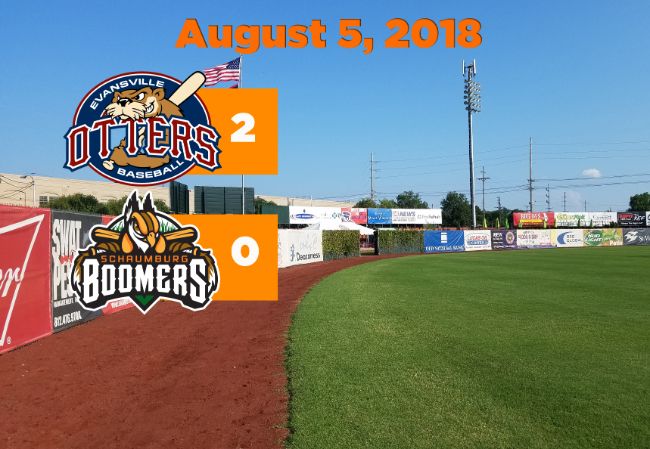 EVANSVILLE, IN — The defending Frontier League champion Schaumburg Boomers, presented by Wintrust Community Banks, were shutout for the eighth time this year, dropping a 2-0 decision on the road to the Evansville Otters on Sunday as Evansville swept the weekend series.
A pitcher's duel throughout, the Boomers did not have a runner reach scoring position until the seventh against Evansville starter Randy Wynne. Chris Powell did not allow a hit on the mound until the fourth inning for the Boomers, but Evansville's J.J. Gould opened the scoring with a two-out double to left in the fifth. The Otters added an insurance tally in the eighth to account for the final. Schaumburg put the tying runs on base in the ninth, but Mitchell Aker nailed down his league best 19th save.
Schaumburg finished with six hits, all coming from different individuals. Zack Weigel extended his on-base string to 26 games with a sixth inning walk. The streak is the longest of the season for the Boomers and the second longest active stretch in the league. Powell was hit with the hard luck loss despite spinning a quality start. The righty struck out six in six innings and allowed just one run.
The Boomers (36-36) continue to battle in a crowded playoff race in the Frontier League. The final six-game roadtrip of the season will continue in Northern Michigan with a Wednesday doubleheader against the Traverse City Beach Bu,s at 4:05 p.m. The final 24 games of the year will all be against divisional foes. Schaumburg returns home for a nine-game homestand on August 10 for Star Wars Night. Make the Boomers part of your plans this summer before it is gone by calling (847) 461-3695.