Boomers Split Doubleheader at Traverse City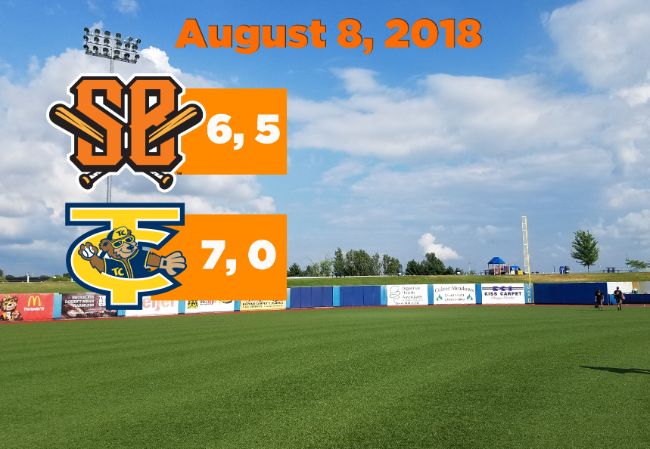 TRAVERSE CITY, MI — The defending Frontier League champion Schaumburg Boomers, presented by Wintrust Community Banks, split a pair of games with the Traverse City Beach Bums on the road Wednesday night.
TRAVERSE CITY 7, BOOMERS 6 – Game One
Schaumburg could not hold a four-run lead in dropping the opener. Ty Moore handed the Boomers a 1-0 lead in the top of the first with an RBI fielder's choice before Traverse City hit back-to-back homers in the bottom of the inning. Moore tied the game with an RBI single in the third and the Boomers scored four times in the fourth, three of which came on a homer from Zack Weigel. Michael Hartnagel doubled home the first run of the frame. Traverse City used a pair of homers in the sixth to score four times and nab the win in the opener.
Weigel finished with three hits and three RBIs in the first contest. Moore knocked in two. The Boomers finished with 12 hits in the loss. Sean Godfrey, Kenny Towns and Nick Oddo all picked up two. Starter Kit Fowler worked 5.1 innings. Mitch Schulewitz suffered the loss.
BOOMERS 5, TRAVERSE CITY 0 – Game Two
The Boomers rode the arm of newcomer Quinn DiPasquale to a shutout in the second contest, rebounding to split and return to the .500 mark with the third shutout victory of the year. Collin Ferguson doubled home the first run in the top of the second and Clint Hardy followed with a double to score Ferguson as the Boomers scored three times in the inning. Godfrey homered in the fifth and Weigel notched an RBI single in the seventh to account for the offense.
Weigel has reached base in 28 straight, the third longest streak in team history. DiPasquale, signed before the doubleheader, tossed four blank frames in his first professional start. Dylan Stutsman, James Mulry and Jake Joyce combined on the blanking. Godfrey, Ferguson and Hardy all posted two hits as the Boomers finished with eight.
The Boomers (37-37) continue to battle in a crowded playoff race in the Frontier League. The rubber game of the series takes place at 6:05 p.m. on Thursday with RHP Joe Hauser (7-6, 4.14) facing RHP Luke DeVenney (0-3, 11.12). Schaumburg returns home for a nine-game homestand on Friday for Star Wars Night. Make the Boomers part of your plans this summer before it is gone by calling (847) 461-3695.