Boomers Limited to One Hit in Another Shutout Loss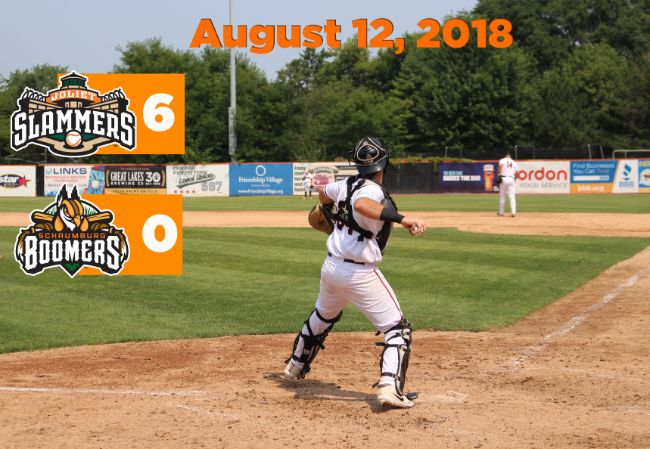 SCHAUMBURG, IL — The defending Frontier League champion Schaumburg Boomers, presented by Wintrust Community Banks, were limited to just one hit for a second consecutive contest, dropping a 6-0 decision at the hands of the Joliet Slammers in the rubber game on Sunday afternoon.
Joliet created a 2-0 lead early when Justin Garcia drove a 3-2 pitch over the wall in right for his league best 21st homer. Ridge Hoopii-Haslam added a two-run homer in the second against surprise starter Quinn DiPasquale after Chris Powell was a late scratch. The only Schaumburg hit came in the bottom of the third on a sinking liner to right from Michael Hartnagel. Joliet added single runs in the third and ninth to account for the final.
DiPasquale suffered the loss, working two innings. The Boomers utilized five relievers for the remainder of the game, combining to allow just two runs over seven innings. Joliet starter Scot Hoffman spun a complete game shutout, striking out seven. Hoffman retired the final 17 batters of the contest. Zack Weigel did reach base twice by drawing a pair of walks, extending his team record on-base streak to 32 games. The streak is the second-longest active streak in the league and the third longest of the season in the league. Schaumburg has been involved in five consecutive shutouts and have been blanked 11 times on the season, second most in team history.
The Boomers (38-40) continue to battle in a crowded playoff race in the Frontier League in the final three weeks of the year. Schaumburg continues a nine-game homestand on Tuesday night at 6:30 p.m. when the Windy City ThunderBolts come calling. The season will conclude with 12 of the final 18 played at home. Make the Boomers part of your plans this summer before it is gone by calling (847) 461-3695.