Boomers Hold Off Windy City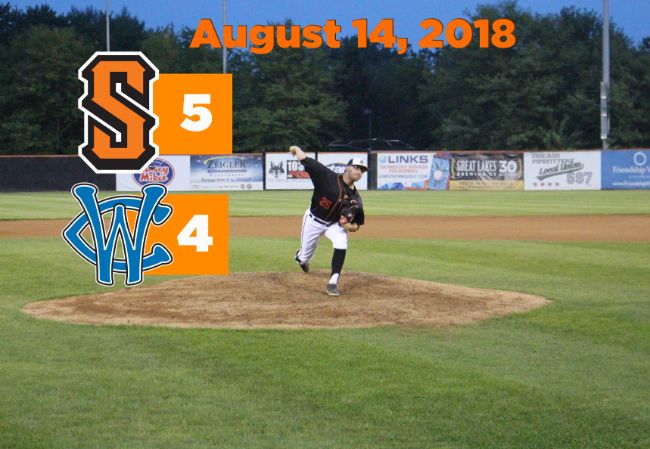 SCHAUMBURG, IL — The defending Frontier League champion Schaumburg Boomers, presented by Wintrust Community Banks, held off a late surge from the Windy City ThunderBolts to tally a 5-4 win in the series opener on Tuesday night.
Schaumburg jumped ahead early, scoring twice in the bottom of the first. Collin Ferguson tallied a two-run single with the bases loaded and two outs to open the offense. The Boomers furthered the lead with two runs in the third. Darrell Miller, Jr. notched an RBI infield single while another run scored on an error. The final run crossed in the fourth. Sean Godfrey led off with a triple and scored on a Ty Moore sacrifice fly. Windy City did not record a hit until the fifth inning, but chipped away, scoring three in the fifth, and placed the tying run on base in the eighth and ninth.
Kit Fowler collected his first win of the year by throwing six innings and allowing two earned runs on just two hits while walking three and striking out six. Ivan Vieitez shut the door for his first save. Zack Weigel tallied two hits to extend his team record on-base streak to 33 games. Ferguson also picked up a pair of hits in the win.
The Boomers (39-40) continue to battle in a crowded playoff race in the Frontier League in the final three weeks of the season. Schaumburg continues a nine-game homestand on Wednesday night against Windy City at 6:30 p.m. on Pro Wrestling Night featuring appearances by Kevin Nash, Billy Gunn and Abyss. RHP Payton Lobdell (4-7, 2.74) is scheduled to start for the Boomers against RHP Eddie Avila (2-6, 5.23). Make the Boomers part of your plans this summer before it is gone by calling (847) 461-3695.