Wild Things Race to Win in Series Opener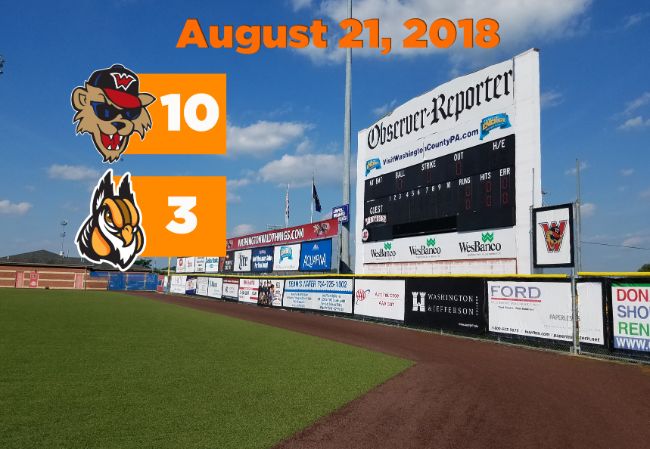 WASHINGTON, PA — The defending Frontier League champion Schaumburg Boomers, presented by Wintrust Community Banks, fell behind early and could not overcome the Washington Wild Things in a 10-3 loss in the opener of a three-game series on the road Tuesday night.
Washington hit three homers in the contest, building a 10-0 lead. The Wild Things broke the game open with six runs in the third inning on three-run homers from Roman Collins and Carter McEachern. Schaumburg broke up the shutout with a pair of runs in the top of the sixth. Ty Moore notched an RBI single and Zack Weigel drove home a run with a groundout. Washington starter Thomas Dorminy had gone 13.1 innings without surrendering a run to the Boomers before the frame. Dorminy worked eight innings to earn the win.
Payton Lobdell suffered the loss, allowing seven runs on seven hits in three innings. Dylan Stutsman tossed two innings and Jack Finnegan logged three scoreless frames. Jack Parenty finished with seven hits at the top of the lineup. Weigel extended his franchise record on-base streak to 39 games by reaching twice. The streak is the longest active and the second longest overall in the league this season.
The Boomers (42-43) continue the brief three-game venture on Wednesday night at 6:05 p.m. LHP Gunnar Kines (6-2, 3.54) takes the mound against RHP Levi MaVorhis (2-2, 3.79). With 11 games remaining, the Boomers are just two back from the final playoff slot. Schaumburg has six home contests remaining this year. Make the Boomers part of your plans this summer before it is gone by calling (847) 461-3695.