Boomers Walk-Off with Wild Win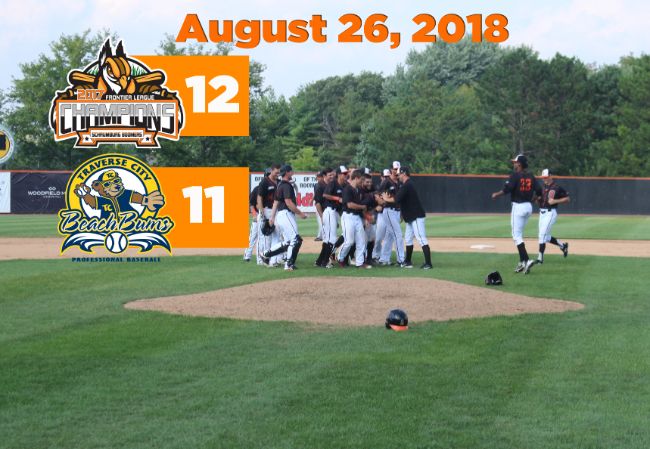 SCHAUMBURG, IL — The defending Frontier League champion Schaumburg Boomers, presented by Wintrust Community Banks, walked off with a wild 12-11 win over the Traverse City Beach Bums on Sunday afternoon when Nick Oddo singled with two strikes in the bottom of the ninth to score Jack Parenty.
Zack Weigel connected on a three-run homer in the bottom of the first to give the Boomers an early lead, but Traverse City scored five in the second to begin the back-and-forth. Parenty and Weigel singled home runs to tie the game in the second. Oddo lifted a sacrifice fly to put the Boomers in front and Collin Ferguson added an RBI double in the inning to chase Traverse City starter Reinaldo Lopez. Weigel doubled home two in the bottom of the third after the guests tied the game in the top of the frame. Will Kengor hit a three-run homer in the fourth as Traverse City moved ahead again, scoring four unanswered to open an 11-9 edge. Michael Hartnagel and Parenty posted RBI singles in the sixth to tie the slugfest before the bullpens from each team settled down.
The win marked the eighth walk-off victory this year. Oddo has ended the last two, also hitting a walk-off homer on August 16. The Boomers own 22 comeback decisions this year. Weigel finished with four hits and six RBIs. The four hits matched the most in a game this season and the six RBIs equaled the second most in a game in team history. Weigel has reached base in 44 straight, a team record and the longest mark in the league this season. Parenty and Hartnagel tallied three hits apiece as the Boomers finished with 19. Parenty scored four times. All nine members of the starting lineup logged a hit. Jake Joyce picked up the win in relief on the day he became the franchise's career leader in appearances.
The Boomers (44-46) continue the final homestand of the year by welcoming the Washington Wild Things on Tuesday night to begin the final series at home at 6:30 p.m. The season is down to just six games remaining and the Boomers remain in a crowded battle for the Frontier League playoffs. Make the Boomers part of your plans this summer before it is gone by calling (847) 461-3695.