Late Rally Thwarts Schaumburg Comeback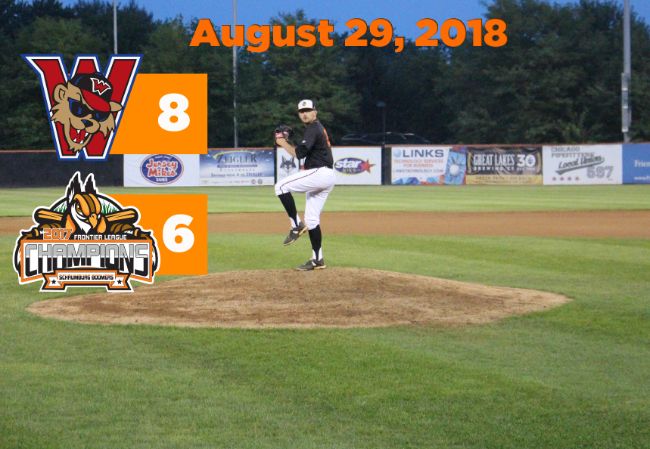 SCHAUMBURG, IL — The defending Frontier League champion Schaumburg Boomers, presented by Wintrust Community Banks, rallied from a 4-0 deficit but dropped an 8-6 contest late at the hands of the Washington Wild Things who became the first team in the Frontier League to clinch a playoff slot.
Washington built a 4-0 lead in the game by scoring once in the first and tacking on three in the third. Collin Ferguson started the Schaumburg comeback by logging a two-run single in the bottom of the fourth. Clint Hardy tied the game with a two-run homer in the sixth. Zack Weigel doubled home Tyler Wolfe in the seventh, putting the Boomers ahead 5-4. Washington responded with four runs in the eighth to take the lead again. Schaumburg brought the tying run to the plate in the eighth and put the tying runs on base in the ninth but fell short.
Nick Oddo doubled twice and finished with three hits for the Boomers, who tallied nine in the game. Ferguson and Weigel tallied two apiece. Weigel extended his franchise record on-base streak to 46 games, the longest in the league this season and believed to be the second longest in league history. Kit Fowler started and worked six innings in a no-decision. Darrell Thompson suffered the loss. Dylan Stutsman struck out three of the four batters he faced in 1.1 scoreless innings.
The Boomers (44-48) play at home for the final time this season on Thursday night at 6:30 p.m. on Fan Appreciation Night featuring postgame fireworks. RHP Chris Powell (0-4, 2.38) takes the ball for the Boomers against RHP Chase Cunningham (7-6, 4.55). Don't miss out on the final home night of the season. Make the Boomers part of your plans by calling (847) 461-3695.