Boomers Fall in Extras in Home Finale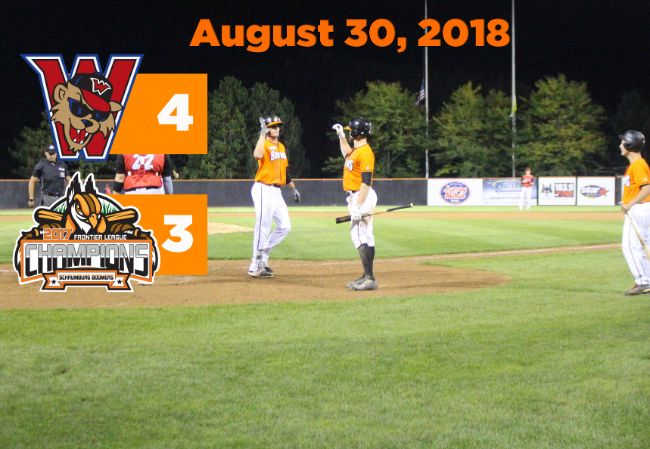 SCHAUMBURG, IL — The defending Frontier League champion Schaumburg Boomers, presented by Wintrust Community Banks, rallied to tie the game in the ninth inning but suffered a 4-3 loss in 11 innings to the Washington Wild Things in the final home game of the season.
Washington scored three runs in the top of the third against starter Chris Powell. The Boomers struggled to get the bats going, but pecked away at the deficit. Michael Hartnagel scored the first run in the bottom of the fourth, crossing the plate on a groundout from Darrell Miller, Jr. Clint Hardy sprinted home on a wild pitch in the seventh to bring the Boomers within 3-2. Collin Ferguson led off the top of the ninth with a solo homer over the wall in right against Washington closer Zack Strecker, his sixth of the year, to tie the score. Neither team scored in the 10th and an RBI double from Kyle Pollock in the 11th accounted for the winning run.
Powell worked six innings and allowed three runs on seven hits with two walks and six strikeouts. Jake Joyce suffered the loss in relief, allowing just the international tiebreaker run. The Boomers finished with just six hits in the loss, two of which came from Hartnagel. Zack Weigel was hit by a pitch in the fourth inning to keep his franchise record on-base streak intact at 47 games, the longest in the league this year and believed to be the second longest in league history. Schaumburg finished the year with a 25-23 mark at home and led the league in attendance again.
The Boomers (44-49) conclude the season with three games at Joliet this weekend. RHP Hendry Rodriguez (0-1, 8.68) starts the 7:05 p.m. opener against RHP Taylor Goshen (4-6, 4.86).