White Sox Purchase Contract of Darrell Miller Jr.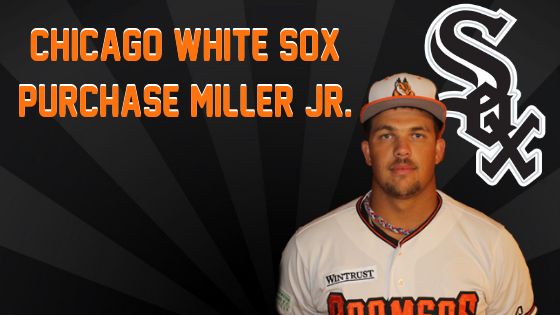 SCHAUMBURG, IL - The Schaumburg Boomers, presented by Wintrust Community Banks, are proud to announce that catcher Darrell Miller, Jr. has had his contract purchased by the Chicago White Sox.
Miller Jr., who signed with the Boomers in late July, appeared in 21 games for Schaumburg hitting a .238 average with 12 RBI's. The former UCLA Bruin dealt with injuries which caused him to be off and on the disabled list, ultimately limiting his playing time in Schaumburg.
Prior to joining the Boomers in July, Miller Jr. played for the Kansas City Royals Rookie Ball affiliate, the Idaho Falls Chukars in 2017 where he led the Pioneer League in batting average hitting .376. The California native was then traded to the Los Angeles Dodgers in 2018 where he played for the Great Lake Loons, a Class A affiliate, and batted a .310 average and 2 homeruns in 15 games before being released.
Before being a professional baseball player, Miller Jr. grew up in an athletically gifted family. His father, Darrell Miller, was drafted in the 9th round in 1979 MLB Draft and played 5 seasons in majors with the California Angels. His uncle, Reggie Miller is a basketball Hall of Famer, an honor he received after an 18-year career with the Indiana Pacers, Reggie also obtained an Olympic Gold Medal in 1996. Finally, his aunt, Cheryl Miller, is also a basketball Hall of Fame inductee and Olympic Gold Medalist.
Miller Jr. was a 2012 Rawlings All-American his senior year at Servite High School in Anaheim, California. He was drafted in 2012 by the Philadelphia Phillies in the 34th round out of high school. Attended and graduated college at UCLA where he won a National Championship with the team his freshman year in 2013.
Ticket packages for the 2019 season can be reserved by calling (847) 461-3695.