First of Many to Join the Boomers in 2019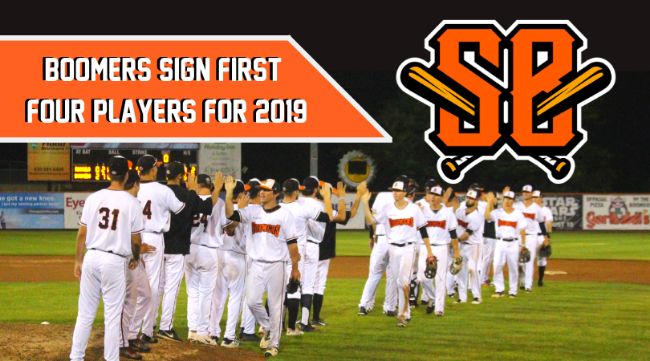 SCHAUMBURG, IL – The Schaumburg Boomers, presented by Wintrust Community Banks, are already filling the roster for 2019. Field Manager Jamie Bennett has already signed four players to join the Boomers in 2019: RHP David Palmer, RHP Jack Landwehr, RHP Matt Williams, and OF Connor Oliver.
RHP David Palmer, native of Islip Terrace, NY, is entering his first year as a professional baseball player with the Boomers. Palmer graduated from the University of New Haven in May 2018 and had a remarkable senior year campaign after having an 8-3 record with a 1.89 ERA in 90.1 IP. Palmer played a major role in helping the Chargers pitching staff to the lowest team ERA in all of Division I and Division II schools. The right hander held opposing batters to a .206 average, including pitching 35 consecutive innings before allowing a run to start his senior year.
When asked what Palmer can bring to the Boomers in 2019, Jamie Bennett said, "Palmer had an outstanding college career and has always been a strike thrower with some pitchability." Palmer earned NE10 Co-Pitcher of the Year and All-American honors, as well as being named NE10 First Team, D2CCA All-Region First Team, NCBWA East Region First Team, and ABCA East Region Second Team. In his final two seasons as a Charger, Palmer accumulated a 16-4 record with a 1.72 ERA in 167.2 innings of work. "We think he is capable of coming in and competing for a spot in our rotation," added Bennett.
RHP Jack Landwehr enters his second year in the Frontier League and first year with the Boomers after playing with the Normal Cornbelters during the 2018 season. Landwehr posted an 8-3 overall record with a 3.32 ERA for Normal in 2018. Landwehr was selected to the 2018 Frontier League All-Star game, as well a Runner-Up for Rookie of the Year last season. "Jack had a great rookie campaign last year in Normal," said Bennett. Adding, "He was a consistent starter all year and we look for him to come in and hold a steady spot in our rotation." Landwehr is a Mount Prospect, IL native where he graduated from Illinois State University in May of 2017. In his senior year campaign at ISU, Landwehr led the team in pitching appearances (24) and strikeouts (57), while also sharing the team lead in saves (2).
RHP Matt Williams enters his third season in the Frontier League and first with the Boomers after playing with the Traverse City Beach Bums the previous two seasons. With Traverse City, Williams posted a 7-4 overall record with a 3.38 ERA and 102 strikeouts in 96 innings pitched as a reliever. His best season came last season in 2018 when he posted a 5-2 overall record and a 2.73 ERA.
When asked about what Williams can bring to the Boomers, Bennett said, "Matt has proven to be a guy in this league that can get outs late in the game. Between college and pro ball he has pitched in several roles and we look for him to be a vital part of our pitching staff." Williams, a Geneva, IL native graduated from Grand Valley State University in 2017 after transferring from Northern Illinois in 2014. His junior year Williams tied the NCAA Division II record with 20 saves in a single season, while also carrying a 0.84 ERA across 43.1 IP and 32 appearances, a GVSU single-season record. Williams finished his career with 103.1 IP and 146 strikeouts, while also setting the record for lowest career ERA (min. 100 IP) with the Lakers with a stellar 1.45 ERA. He became the All-Time NCAA Division II leader in saves (40) in 2017.
OF Connor Oliver enters his fourth season in the Frontier League and also his first with the Boomers after playing with the Lake Erie Crushers in 2016 and 2017, and splitting time in 2018 with the River City Rascals and Traverse City Beach Bums. Oliver was drafted by the Atlanta Braves in the 23rd round of the 2013 MLB Draft as a 19 year old from the State College of Florida, Manatee-Sarasota in Bradenton, FL.
The then Churchton, MD native, who now resides in Stafford, VA, started his pro career with the Braves in the Gulf Coast League (Rk) in 2013, which in 2014 was moved up to Single-A with the Rome Braves of the South Atlantic League. He split time in 2015 with Rome and the Carolina Mudcats, the Class-A Advanced affiliate of the Atlanta Braves, before signing with the Lake Erie Crushers in 2016. Oliver played with Lake Erie the majority of the 2016 season before getting signed by the New York Yankees and assigned to the Advanced-A Tampa Yankees before returning to Lake Erie in 2017. After spending three years in the Frontier League, Bennett says that "his experience should serve us well on the field and in the clubhouse." Oliver has a batting average of .239 with 31 HR's in his three seasons in the Frontier League, and Bennett says that he has enjoyed watching Oliver play the past couple years in the league. "He is a special player with some unique athletic abilities and brings energy to the ballpark every day," added Bennett.
The Boomers 2019 season, presented by Wintrust Community Banks, begins May 10. The Home Opener is Tuesday, May 14 vs. Washington Wild Things.
Season ticket packages and group and hospitality offerings for the 2019 season can be reserved by calling (847) 461-3695 or emailing [email protected].