Boomers Re-Sign Four from 2018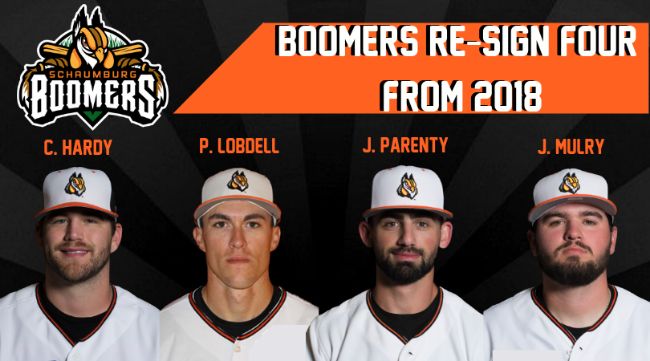 The Schaumburg Boomers, presented by Wintrust Community Banks, have made strides recently in adding to their 2019 roster. The Boomers have signed four players from the 2018 roster to contracts with the team. Those players include: 2018 All-Stars pitcher Payton Lobdell and infielder Jack Parenty, left-handed pitcher James Mulry, and outfielder Clint Hardy.
Right-handed pitcher Payton Lobdell returns for his second season with the Boomers after being acquired via trade at the start of the 2018 season from the Lake Erie Crushers. Lobdell enters his third season in the Frontier League after splitting time in 2017 between the Southern Illinois Miners and Lake Erie. Last season, Lobdell was selected to the 2018 All-Star game after a tremendous first half of the season as he ranked amongst the best in the league with a 2.80 ERA and held opposing batters to just a .217 average.
"Payton was one of our most consistent starters last year. He's a great competitor that I feel is really starting to come into his own. We look for him to be a solid guy in the rotation for us again this year," said Manager Jamie Bennett.
Lobdell finished the season starting in 18 games with a 5-8 record along with a 4.24 ERA in 101.2 innings of work. The Huntington Beach, CA native when asked about what he loves about playing in Schaumburg he stated, "Honestly everything, from the fans, to the real surface field, to the organization itself. I believe hands down that it's the best place to play in the Frontier League."
Infielder Jack Parenty returns for his third season with Schaumburg. The New York native had an exceptional year being selected to the 2018 All-Star game mid-season and also a Postseason All-Star selection, which is given to the top players in the league at the conclusion of the season.
Bennett stated, "Jack has really started to grow as a professional. His improvement between '17 and '18 was very impressive and goes to show the kind of worker he is. We look for Jack to be a consistent bat at the top of the lineup for us again this year."
Parenty finished the 2018 season second on the team and fourth in the league in batting average with a .324 average. He also led the team in hits with a 116 and as well as walks with 59. "I'm looking forward to getting back out there and competing for a championship, and once again playing in front of the best fans in the Frontier League", said Parenty.
Left-handed pitcher James Mulry enters his second season with the Boomers. Coming out of relief for the Boomers in 2018, the left hander pitched 43 innings with a record of 4-0 and a solid 2.30 ERA.
After appearing in team high 40 games in 2018 Bennett stated, "He can pitch in practically any role and he's someone we trust late in the ballgame."
When asked what Mulry is looking to bring to the Boomers in 2019, he said "I hope to bring back some versatility out of the bullpen again. I'm preparing now to be able to pitch in any situation it may be, and put us in a good place to win whenever I get to take the mound." The Boston, MA native had a short stint in 2017 with the Ottawa Champions of the Can-Am League, before signing with the Boomers for 2018. "Last summer was some of the most fun I've ever had on a baseball field, and I attribute that to the great group of guys we had. I look forward to getting back to Schaumburg and competing again with next year's team," said Mulry.
Outfielder Clint Hardy will also return for his second season with Schaumburg. Hardy appeared in 55 games for the Boomers as an outfielder and designated hitter. The Augusta, GA native hit a .241 average for the Boomers in 2018 as well as 41 hits in those games.
"Clint showed some promising things in his rookie season. He has some unique ability and we look forward to him improving on his consistency and becoming a productive part of our lineup," said Bennett.
Hardy was signed late in the season with Traverse City in 2017 and wasn't able to get a chance to showcase himself, as the year prior in 2016 he batted .364 for the Savannah Bananas of the Collegiate Coastal Plains League. Hardy attended Augusta University where he ranks fourth all-time in career batting average with .372 in 123 games. "I look forward to once again playing in front of the best fans, as well as competing to bring a Frontier League championship back to Schaumburg," stated Hardy.
The Boomers 2019 season, presented by Wintrust Community Banks, begins May 10. The Home Opener is Tuesday, May 14 vs. the Washington WildThings.
Season ticket packages and group and hospitality offerings for the 2019 season can be reserved by calling (847) 461-3695 or emailing [email protected]. Single game tickets will go on sale Monday, April 1 at 10:00 AM.