Boomers Re-Sign DiPasquale & Stutsman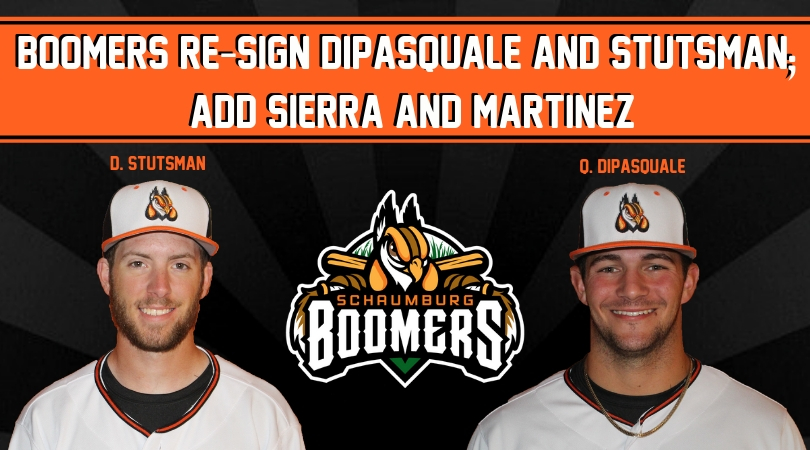 Boomers Re-Sign DiPasquale and Stutsman; Add Martinez and Sierra
The Schaumburg Boomers, presented by Wintrust Community Banks, have returned right-handed pitchers Quinn DiPasquale and Dylan Stutsman, and have added right handed pitcher Erik Martinez and utility player Rayden Sierra to the 2019 roster.
Quinn DiPasquale will return to Schaumburg in 2019 after joining the team in early August last season. DiPasquale appeared in six games for the Boomers in 2018, starting in four of them. The Massachusetts native accumulated a 1-1 overall record for the Boomers with a 4.50 ERA.
Prior to joining the Boomers, DiPasquale had a short stint with the Gary SouthShore Railcats of the American Association in 2018, appearing in only four games and surrendering a 5.68 ERA. In 2017, DiPasquale played summer baseball for the Wisconsin Rapids Rafters of the Northwoods League, where he was selected to 2017 Northwoods League All-Star Game and completed the season with a 6-2 record along with a 3.66 ERA, and 56 strikeouts in 61.1 innings of work. DiPasquale graduated from Stevens Institute of Technology in 2018, where he played baseball all four years while majoring in Biomedical Engineering. In those four years, the right hander appeared in 37 games and started 23 of them with an overall record of 7-7 with a 3.75 ERA.
Dylan Stutsman will return to the Boomers in 2019 after joining the team shortly after the start of the 2018 season. Stutsman appeared in 25 games for the Boomers, making one start and tossing 52 innings. Stutsman finished the season with a 1-2 record and a 5.37 ERA and recorded 44 strikeouts.
In 2017, Stutsman played for the Rockford Rivets of the Northwoods League, and posted a 3-0 record with a 3.13 ERA in 23 innings out of relief. The Bloomington, IN native graduated from the University of Indianapolis where he played four years for the Greyhounds baseball team. The right hander finished his collegiate career with a 13-5 record and a 3.35 ERA in 141 innings pitched. Stutsman is also a two time First Team All-GLVC East Division recipient and is the Greyhounds career leader in saves (31).
Erik Martinez will also be making his professional baseball debut with the Boomers this season. Martinez recently graduated from the University of California, Berkeley where he was a three-time PAC-12 All-Academic Honors in Legal Studies. Martinez also played four years on the Golden Bears baseball team as a reliever where he was a candidate for the Stopper of the Year Award, given to college baseballs top reliever, three consecutive years. Martinez finished his career at Cal ranked top 10 in appearances (88) and saves (15). In those 88 appearances, Martinez held a career record of 12-7 with a 2.89 ERA. The right hander held opposing batters to a .210 average as well as 10.2 strikeouts per nine innings.
Rayden Sierra will be making his professional baseball debut with the Boomers this season. Sierra attended Cumberland (Tenn.) University where he has played baseball with the Phoenix for two years since transferring from Broward Community College in Florida in 2016. Sierra had a terrific 2018 season with the Phoenix as he earned Mid-South Player of the Year and NAIA First Team All-American. The Dominican Republic native finished the 2018 regular season with a .350 average, along with leading the conference in homeruns (22), slugging percentage (.773), and total bases (157). The season prior in 2017, Sierra hit .360 and 13 homeruns for the Phoenix. Sierra is both a two-time Mid-South Conference First Team and Academic All-American recipient.
The Boomers 2019 season, presented by Wintrust Community Banks , begins May 10. The Home Opener is Tuesday, May 14 vs. the Washington WildThings.
Season ticket packages and group and hospitality offerings for the 2019 season can be reserved by calling (847) 461-3695 or emailing [email protected]. Single game tickets will go on sale Monday, April 1 at 10:00 AM.