Boomers Sign Former Colorado Rockies Prospect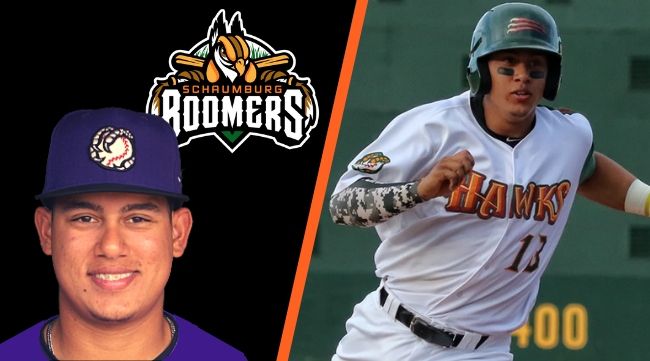 SCHAUMBURG, IL - The Schaumburg Boomers, presented by Wintrust Community Banks, have added to their roster for 2019 by signing catcher Wilkyns Jimenez
Wilkyns Jimenez will be entering his first season with the Boomers after spending five years in the Colorado Rockies minor league system. Jimenez was signed as an international free agent by the Rockies in September of 2011 at the age of 16. Jimenez was assigned to the Dominican Summer League (DSL), a branch of affiliated minor league baseball which is played in the Dominican Republic and is the only Latin American based rookie league. The DSL is vital to the development of Latin players, especially young players signing at age 16 or 17 years old. Every MLB team has at least one team in the Dominican Summer league and most players are 17-22 years old.
From 2012-2014 Jimenez hit a .237 batting average with 88 hits in 119 games for the Rockies in the DSL. In 2015, Jimenez was assigned to the Boise Hawks of the Northwest League, a Class A Short Season affiliate of the Rockies. The Venezuelan native spent two seasons with the Boise Hawks from 2015-16 and hit a .245 batting average with 63 hits and 28 RBIs in 69 games played. Prior to the start of the 2016 season, the Rockies sent Jimenez an invite to Spring Training where he played in one game going 1 for 2 with a single and a run scored.
In 2018, Jimenez signed with the Martinez Clippers of the Pacific Association located Martinez, CA. The 6'2", 215 pound catcher hit .327 for the Clippers with 69 hits and 8 homeruns in 56 games played.
The Boomers 2019 season, presented by Wintrust Community Banks , begins May 10. The Home Opener is Tuesday, May 14 vs. the Washington Wild Things.
Season ticket packages and group and hospitality offerings for the 2019 season can be reserved by calling (847) 461-3695 or emailing [email protected]. Single game tickets will go on sale Monday, April 1 at 10:00 AM.