Boomers Sign Former Kansas City Royals Prospect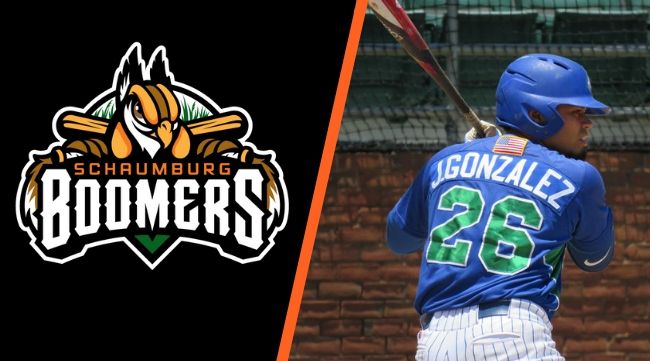 The Schaumburg Boomers, presented by Wintrust Community Banks, have added another piece to their 2019 roster by signing infielder Julio Gonzalez.
Gonzalez will enter his first season with the Boomers and third season at the professional level. The Puerto Rico native most recently played in the Kansas City Royals minor league system after getting drafted in the 17th round of the MLB Draft in 2017.
After getting drafted in 2017, Gonzalez spent the season in rookie ball where he had a .289 batting average on the year with 47 hits and 35 RBI's in 44 games with the Idaho Falls Clunkers. The following season in 2018, Gonzalez went back and forth spending some time once again with Idaho Falls and with the Lexington Legends, a Class A affiliate of the Kansas City Royals. The infielder had a batting average of .260 and supplied 88 hits in 94 games played in the minors. Also, known for his phenomenal defensive skills, Gonzalez held a .945 fielding percentage in his two seasons in the minors splitting time between second base, third base, and shortstop.
Gonzalez attended Florida Gulf Coast University, located in Fort Myers, FL, where he played only his junior season before getting drafted. Prior to FGCU, Gonzalez attended Seminole State College, a Junior College located in Oklahoma. After transferring to FGCU in 2017, Gonzalez helped lead the Eagles to their first conference championship in program history and securing an automatic bid to the NCAA Tournament.
Gonzalez earned a First Team All-Conference recognition after hitting the first cycle in FGCU program history as well as leading the conference in hits (84). He also ranked top-10 in in the conference in triples, doubles, and walks. The shortstop was also awarded with Defensive Player of the Year after fielding a team high 182 infield assists and 99 putouts as well as securing a .949 fielding percentage.
When asked of his expectations of Gonzalez, Field Manager Jamie Bennett said, "Julio comes to us highly recommended. We expect him to come in and be an everyday day guy for us on the infield and around the top of the lineup. He is the type of player that should be a great asset for us on the field and in the clubhouse."
The Boomers 2019 season, presented by Wintrust Community Banks, begins May 10. The Home Opener is Tuesday, May 14 vs. Washington Wild Things.
Season ticket packages and group and hospitality offerings for the 2019 season can be reserved by calling (847) 461-3695 or emailing [email protected]. Single game tickets will go on sale Monday, April 1 at 10:00 AM.