2019 Promotion Schedule Released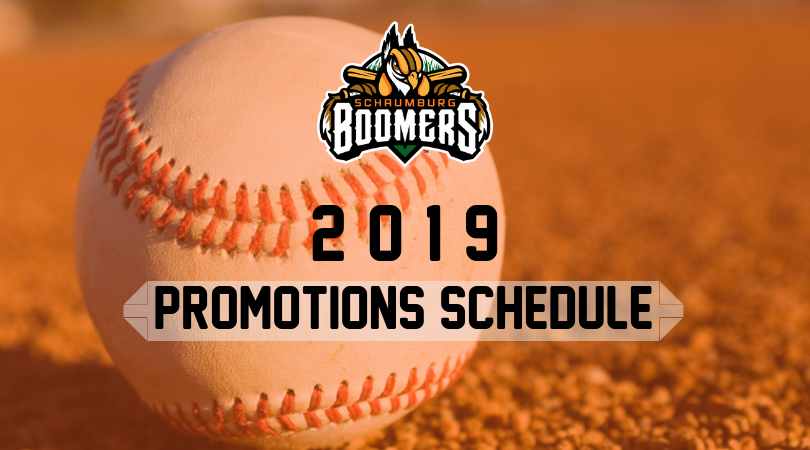 With Opening Day on the horizon, the Schaumburg Boomers are excited to release a fun-filled 2019 promotion schedule that not only pleases local fandoms, but also highlights many not-for-profit organizations.
"Coming to a Schaumburg Boomers game isn't just about baseball, it's an experience. Our promotions schedule is built around providing the best possible fun and family entertainment." said Michael Larson, General Manager of the Schaumburg Boomers.
Fireworks once again dominate the schedule with 21 firework shows scheduled for the season, as well as the following weekly promotions and special theme nights.
Weekly Promotion Schedule:
Tuesday – Dollar Dog Night! $1 Hot Dogs, every Tuesday, all season long.
Wednesday – All-You-Can-Eat Night! Get all-you-can-eat hot dogs, peanuts, and popcorn for only $10.
Thursdays Afternoons - The Office themed Business Day Games! May 16, June 20, July 25, and Aug 1
Thursday Nights – Thirsty Thursday! $2 12 oz. Domestic Drafts all game. May 23, June 6, and Aug. 8
Friday & Saturday – FIREWORKS presented by Wintrust Community Banks.
Sunday – Family Day & Post-Game Autographs! Presented by Wintrust Community Banks! Get up to 6 tickets for $30 at the Boomers Box Office. Plus, Post-Game Player Autographs - Stick around after the game to meet the team and get their signatures!
Theme Nights
May 16 – The Office: Business Day Game
May 24 – Jurassic Ballpark Night
May 25 – Baseball to End Alz
May 26 – Military Appreciation Night
May 27 – Military Appreciation Day
June 4 – Friendship Night
June 6 – Autism Awareness Night
June 19 – Stranger Things Night
June 20 – The Office: Business Day Game
June 21 – Harry Potter Night
June 22 – Chuck Jones Center for Creativity's Looney Tunes Night
June 28 – Peck Cancer Night
June 29 – Princess & Pilates Night
June 30 – Bark in the Park
July 2 – Game of Thrones Night
July 3 & 4 – Independence Day Celebration
July 12 – Star Wars Night
July 13 – Superhero Night
July 14 – Jimmy Buffett Day
July 19 – LEGO Night
July 23 – Fortnite Night
July 24 – Pinot in the Park
July 25 – The Office: Business Day Game
July 29 – Office Space Night
Aug 1- The Office: Business Day Game
Aug 7 – St. Patrick's in the Summer
Aug 8 – Red Solo Cup Night
Aug 16 – Doumak Campfire Marshmallow Fight
Aug 17 – Breast Cancer Awareness Night
Aug 18 – Bark in the Park
Aug 31 – Fan Appreciation Night
Giveaways
May 14 – Plate Disc Giveaway first 500 fans will receive a Boomers Plate Disc.
June 8 – Mayor Al Larson Bobblehead Giveaway to the first 1,000 fans thanks to Salvi, Schostok, and Pritchard.
July 20 – Replica Jersey Giveaway first 1,000 fans will receive a Replica Boomers Jersey thanks to Wintrust Community Banks.
July 21 – Baseball Cap Giveaway first 1,000 fans will receive a Boomers Baseball Cap thanks to Illinois Bone and Joint Institute
Giveaway items and the full promotions schedule can be found online at boomersbaseball.com. All promotions and giveaways are subject to change.
Season ticket packages and group and hospitality offerings for the 2019 season can be reserved by calling (847) 461-3695 or emailing [email protected]. Single-game tickets will go on-sale Monday, April 1 at 10:00 AM.!