Boomers Add RHP Trevin Eubanks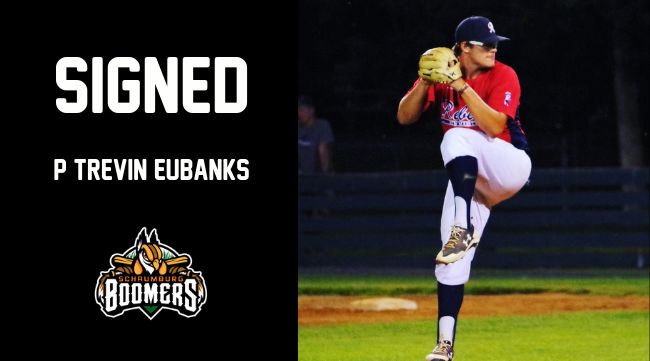 Prior to Tuesday night's second game with River City the Schaumburg Boomers, presented by Wintrust Community Banks, made an addition to the roster with the signing of RHP Trevin Eubanks.
Eubanks has inked his first professional contract after concluding his college career at NCAA Division II Valdosta State this spring. The Niceville, Fla. native served as a late-inning reliever at Valdosta, pitching 23 times on the year and finishing 0-4 with a 5.40 ERA to go with seven saves. Eubanks worked 31.2 innings and notched 40 strikeouts. Valdosta State lost in the South Region II Championship.
Prior to joining the Boomers, Eubanks was pitching in the Northwoods League as a member of the Rockford Rivets. The righty appeared in 17 games out of the bullpen, logging a 4-1 record to go with an ERA of 3.00 with 30 strikeouts over 27 innings. Eubanks posted 12 outings of longer than an inning with the Rivets as well as 12 outing of longer than an inning at Valdosta.
The Boomers released RHP Michael McCraith in a counter move. Obtained via trade with River City at the end of June, McCraith pitched six times for the Boomers and finished 0-1 with a 7.71 ERA over 14 innings of work.