Joliets Squeezes Past Boomers to Win Series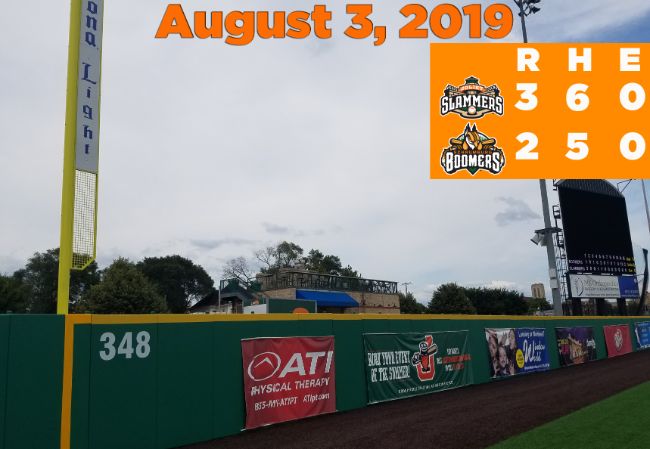 JOLIET, IL —The Schaumburg Boomers, presented by Wintrust Community Banks, lost a series to an East Division foe for the first time this season when the Joliet Slammers pushed across the winning run from first in the bottom of the eighth inning on a sacrifice bunt to score a 3-2 decision.
Nick Oddo gave Schaumburg an early lead by blasting his fifth homer of the season over the wall in right on a line drive with one out in the second. The single run held until Joliet homered against Schaumburg starter Aaron Rozek in the bottom of the seventh. Jimmy Roche put the Slammers in front with a two-run shot. The lead was short lived as the Boomers loaded the bases in the eighth, but managed just one run on a sacrifice fly from Quincy Nieporte to tie the game.
Dylan Stutsman entered in relief in the eighth and hit the leadoff man, Riley Krane. Oliver Nunez dropped down a sacrifice bunt and while a debate was occurring at first, Krane came all the way around to score the winning run. Matt Rose and Jamie Bennett were both ejected in the ensuing argument.
Rozek threw seven innings and allowed two runs while walking one and striking out seven in a no-decision. Stutsman suffered the loss despite not allowing a hit. Jack Parenty notched a pair of hits to score his 32nd multi-hit game of the year.
The Boomers (38-33) remain tied for first in the division with Lake Erie despite the defeat after the Crushers dropped another contest. Schaumburg will attempt to salvage a game in the series on Sunday in the finale at 1:05 p.m. with RHP Matt Miller (3-3, 4.36) on the hill. The Boomers return home on Tuesday night. Visit boomersbaseball.com for tickets and information or call 847-461-3695.