One Swing Sends Florence to Sweep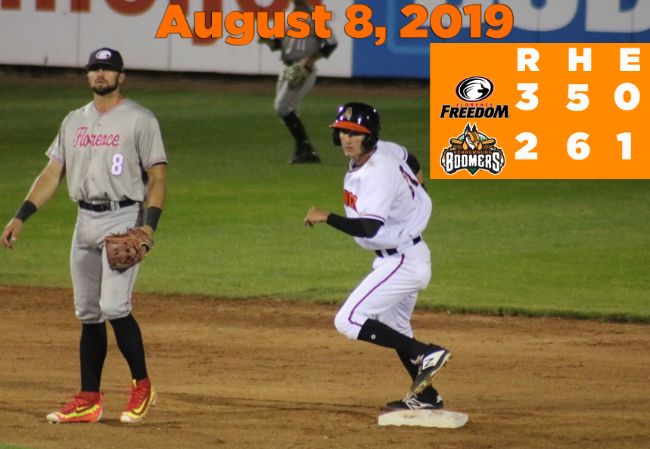 SCHAUMBURG, IL — Payton Lobdell took a no-hitter into the seventh, but a three-run homer from Ricky Ramirez, Jr. handed the Schaumburg Boomers, presented by Wintrust Community Banks, a sixth straight loss with a 3-2 defeat at the hands of the Florence Freedom.
Lobdell retired 17 straight after issuing a one-out walk in the first but ended up suffering the loss despite facing the minimum entering the seventh. Quincy Nieporte and Matt Rose homered on consecutive pitches in the bottom of the sixth with two outs to hand Schaumburg a 2-0 lead. The go-ahead homer from Florence came moments after the first hit of the night in the seventh.
Lobdell worked 6.1 innings and allowed three runs on three hits to take the loss. Dylan Stutsman, Darrell Thompson and Erik Martinez combined to finish the contest. Schaumburg finished with six hits in the defeat. Dylan Jones and Clint Hardy both notched a pair. Florence finished 9-0 against the Boomers this season.
The Boomers (38-37) hit the road on Friday night with the opener of a three-game series against the surging Southern Illinois Miners. LHP Aaron Rozek (5-3, 2.81) makes the start in the opener against RHP Chase Cunningham (7-4, 3.64). Just six home games remain on the schedule. Visit boomersbaseball.com for tickets and information or call 847-461-3695.