Boomers Squander Early Lead in Eighth Straight Defeat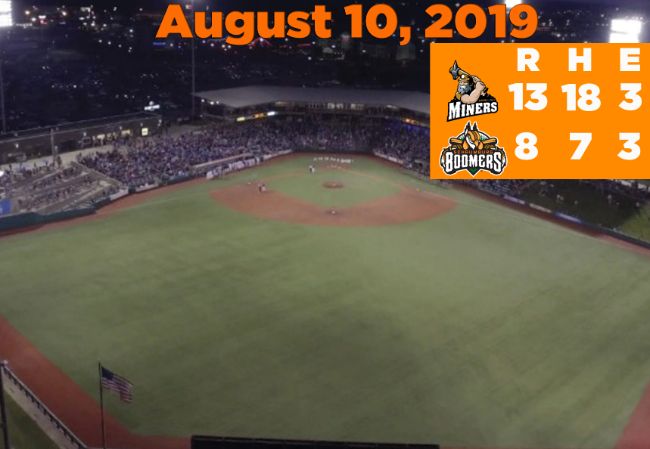 MARION, IL — The Schaumburg Boomers, presented by Wintrust Community Banks, jumped to a 4-0 lead in the first inning but could not hold on in suffering an eighth consecutive defeat at the hands of the Southern Illinois Miners on the road Saturday night by a 13-8 final.
The Boomers put the first three batters of the game on base and took the lead when Quincy Nieporte lifted a sacrifice fly. Nick Oddo followed with an RBI single and Dylan Jones blooped a two-run double on the infield. Southern Illinois scored a single run in the bottom of the second to cut in to the deficit on a homer from Kyle Davis. The frame marked the first of seven consecutive innings with a run. Davis connected on a grand slam in the third to put the Miners ahead for good. Schaumburg battled within 8-7 and 10-8 but could not come up with a shutdown inning to slow the Miners, who have won 10 straight. The right fielder finished 5-for-5 for Southern Illinois with seven RBIs.
Jack Parenty notched his 33rd multi-hit game of the year and the Boomers drew eight walks in the defeat. Jones knocked home a pair. Matt Miller took the loss, allowing seven runs in three innings. Southern Illinois homered four times and totaled 18 hits in the win. The eight-game losing streak matches the longest in team history and has dropped the Boomers three back in the East.
The Boomers (38-39) conclude the series on Sunday night at 5:05 p.m. with LHP Gunnar Kines (6-5, 2.63) on the mound against LHP Marty Anderson (5-3, 2.44). Just six home games remain on the schedule this season. Visit boomersbaseball.com for tickets and information or call 847-461-3695.