Boomers Open Key Series with Late Win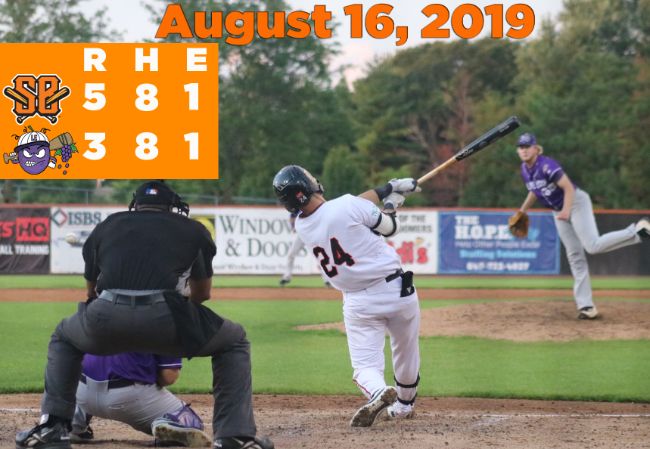 SCHAUMBURG, IL — With the backing of a boisterous crowd, the Schaumburg Boomers, presented by Wintrust Community Banks, opened a key weekend series against the East Division leading Lake Erie Crushers with a 5-3 victory on Friday night.
Schaumburg raced to a 3-0 lead in the game, scoring twice with two outs in the bottom of the first against one of the top pitchers in the league, Jared Koenig. Quincy Nieporte plated Chase Dawson with a single to open the scoring and Matt Rose followed with a double to deep center. Alex Polston added a sacrifice fly in the second.
Koenig settled down, retiring the final 14 batters faced to allow Lake Erie to rally. The Crushers scored twice in the fifth to chase starter Matt Miller and pull within 3-2. Aaron Hill tied the game in the top of the seventh with a solo homer, his 12th of the year. The Boomers grabbed the win with a pair of runs in the eighth against Augie Gallardo, who had allowed just four earned runs all season. Jack Parenty led off with a walk and reached third when Clint Hardy singled. Hardy came around on a steal of third/wild pitch combination to account for the final. Connor Eller shut the door on his first save opportunity in the month of August, notching his 19th of the year.
Darrell Thompson earned the win in relief, striking out five over two innings including the final five batters faced. Miller fanned five in 4.1 innings as the Boomers notched 12 strikeouts, the fourth game with double-digit strikeouts over the last five affairs. Hardy and Nieporte finished with two hits each in the victory as the Boomers pulled within 2.5 games of first with 14 games to play.
The Boomers (41-41) continue the series with Lake Erie on Saturday night at 6:00 p.m. on Breast Cancer Awareness Night brought to you by Women's HealthFirst. Specialty Boomers merchandise, drinks and team jerseys will benefit breast cancer research. The night will end with postgame fireworks presented by Wintrust. Schaumburg will send LHP Gunnar Kines (6-5, 2.51) to the mound against RHP Sam Curtis (0-1, 2.08).
Just five home games remain on the schedule this season including the three this weekend. Visit boomersbaseball.com for tickets and information or call 847-461-3695.