Career Night from Kines Not Enough in Nail-Biting Defeat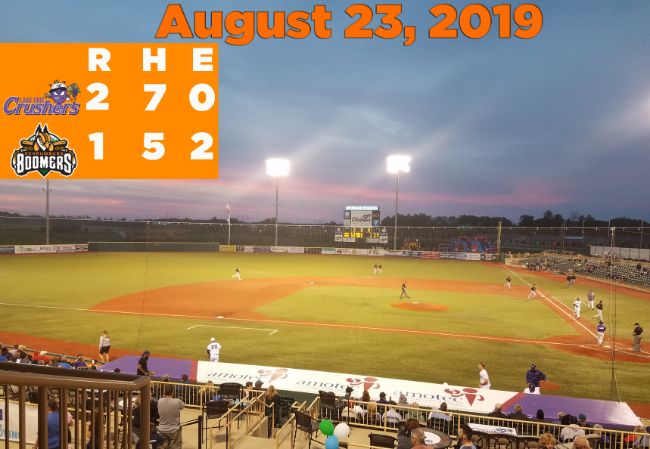 AVON, OH — Gunnar Kines struck out a career high 11 in 7.2 innings and did not allow an earned run, but the Schaumburg Boomers, presented by Wintrust Community Banks, dropped a 2-1 nail-biter in the opener of a weekend series with the Lake Erie Crushers on Friday night.
Luis Román connected on a solo homer in the top of the third inning to give Schaumburg a 1-0 lead. The hit marked the first of the game and was the lone run of the night. Lake Erie picked up unearned runs in the fourth and fifth against Kines to take the lead. Schaumburg placed the tying run on base in the sixth and seventh but came up empty. The Boomers loaded the bases with one out in the eighth but were denied.
Schaumburg left six on base in the loss and totaled five hits, two of which came from Román. Darrell Thompson recorded the final out of the eighth with a strikeout, the 12th of the night for the Boomers, who own eight double-digit strikeout showings in August.
Kines struck out the side in the second and fanned at least one in seven frames. The lefty became the first pitcher in franchise history to notch multiple seasons with 100 strikeouts with his seventh of the night in the sixth. Kines owns 104 strikeouts on the year, matching his 2016 total for the second most in single season history. The 11 strikeouts are tied for the third most in single game team history.
The Boomers (43-45) continue the series on Saturday night with a 6:05 p.m. local start in Ohio. LHP Connor Reed (4-7, 4.40) will start for Schaumburg against All-Star LHP Pat Ledet (6-4, 2.12) for Lake Erie. Just three home games remain on the schedule this season. Visit boomersbaseball.com for tickets and information or call 847-461-3695.