Boomers Outlast Crushers in Marathon Game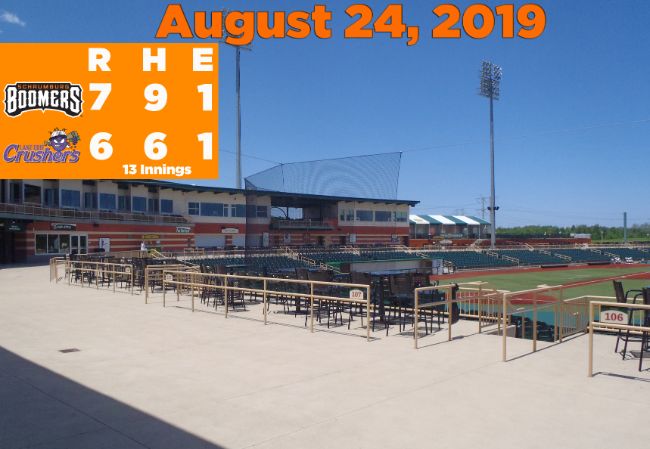 AVON, OH —The Schaumburg Boomers, presented by Wintrust Community Banks, outlasted the Lake Erie Crushers 7-6 in 13 innings on the road Saturday night.
Once a game reaches the 11th inning a runner is automatically placed at second to start the inning with the international tiebreaker rule. Neither team could take advantage until the 13th. Chase Dawson singled and Alex Polston walked to load the bases in the 13th. With one out, Dylan Jones was hit by a pitch to force home the first run and Jack Parenty followed with a groundout to plate Dawson. Lake Erie scored one in the bottom of the inning but Trevin Eubanks, who worked a career high three innings, earned the win.
Lake Erie scored in the bottom of the first and the Boomers tied the game in the fourth on an RBI double from Luis Roman. Lake Erie opened a 2-1 lead in the sixth before Schaumburg broke through with four runs in the seventh. Connor Oliver logged an RBI single and an error led to an additional two runs. Jones doubled home the final run of the frame. Bryan DeLaRosa tied the game with a two-out three-run homer in the eighth.
The Boomers used a bullpen day with Erik Martinez starting and striking out five in three innings. The pitching staff struck out 17 batters in the victory. Jumpei Akanuma recorded two strikeouts in 2.1 innings, Dylan Stutsman fanned three in two innings and Connor Eller tacked on four punchouts in two blank frames before Eubanks finished with three more in his first professional victory. Thomas Nicholl also worked in the contest. Dawson, Jones and Roman all notched two hits in the decision as the Boomers tallied nine. Dawson and Gian Martellini both scored twice in one of the longest games in team history.
The Boomers (44-45) conclude the series on Sunday at 2:05 p.m. Eastern with RHP Payton Lobdell (3-8, 3.50) on the mound. Just three home games remain on the schedule this season. Visit boomersbaseball.com for tickets and information or call 847-461-3695.