Windy City Pitches Past Boomers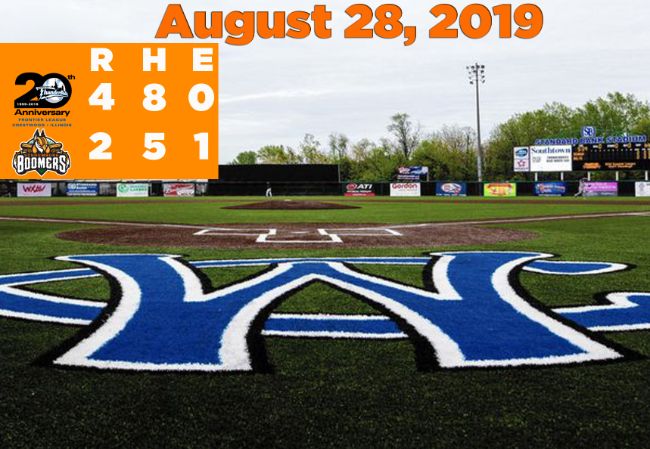 CRESTWOOD, IL —The Schaumburg Boomers, presented by Wintrust Community Banks, mounted a ninth inning rally but fell short in a 4-2 defeat at the hands of the Windy City ThunderBolts on the road Wednesday night.
Windy City starter Chris Washington set the tone for the game. Washington allowed a leadoff single to Chase Dawson and then struck out the next three. The right-hander fanned 11 in 8.1 innings, carrying a shutout into the ninth. Washington retired 11 in a row from the fourth through the eighth. The ThunderBolts scored single runs in four different innings to provide all of the offense. Matt Rose pounded his 15th homer of the year in the ninth, a two-run blast to cut the deficit in half and end the night for Washington.
Both pitchers were racking up strikeouts as Matt Miller struck out eight in five innings of work in his final start of the season. Miller suffered the loss, allowing two earned runs. Jumpei Akanuma and Thomas Nicholl struck out two apiece in relief as the Boomers tallied 10 or more strikeouts for the fifth time in the last six contests and for the 11th in August. Five different players posted hits for the Boomers in the defeat.
The Boomers (45-47) play on the road for the final time this season on Thursday night at 7:05 p.m. with the rubber game of the series. LHP Gunnar Kines (6-6, 2.34) will take another crack at breaking a tie for most wins in a career against RHP Hayden Shenefield (1-3, 6.81). The Boomers return home on Friday for the final three games of the season. Visit boomersbaseball.com for tickets and information or call 847-461-3695.