All-Star Nieporte Returns for 2020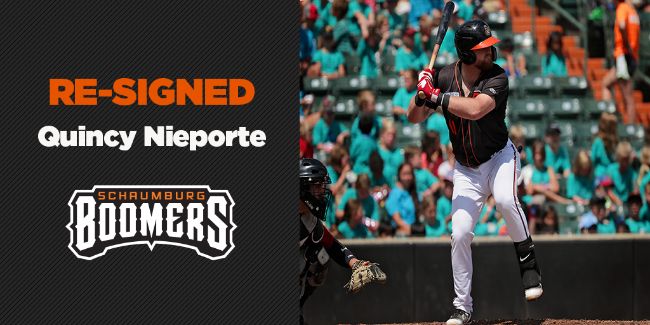 SCHAUMBURG, IL – The Schaumburg Boomers, presented by Wintrust Community Banks, have re-signed Post-Season All-Star first baseman Quincy Nieporte.
The primary first baseman will be back for his second season with the Boomers. Nieporte led the Frontier League in batting average, hitting .315 over the course of 84 games played. His 71 RBIs led the Boomers and was second on the team with 13 home runs. On August 21, Nieporte set a Frontier League record by becoming the first player in league history to notch double-digit RBIs. He hit a three-run homerun, three run double, and a grand slam for a total of 10 RBIs.
"We are very excited to have Quincy back with us. He was one of the more productive offensive players in the league last year and we look for him to anchor the middle of our lineup again," said Manager Jamie Bennett.
The Florida State University alum was originally drafted by the Philadelphia Phillies in the 26th round of the 2017 MLB Draft. Nieporte held a career .272 at the Class A and Class A-Advanced level.
The Boomers 2020 season, presented by Wintrust Community Banks, begins May 14. The Home Opener is Friday, May 22 vs. Trois-Rivieres Aigles.
Season ticket packages and group and hospitality offerings for the 2020 season can be reserved by calling (847) 461-3695 or emailing [email protected].