Boomers Sign Former Mets Prospect John Mora; Rozek & Dawson Re-Signed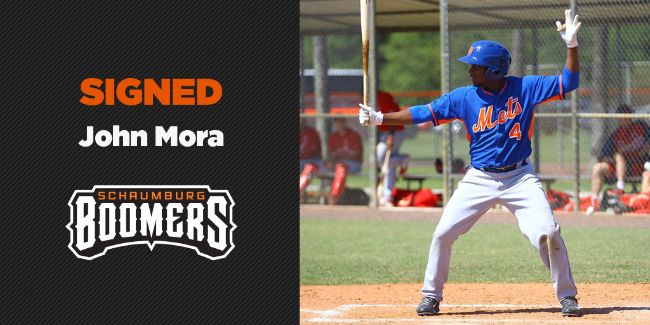 SCHAUMBURG, IL – The Schaumburg Boomers presented by Wintrust Community Banks, have signed John Mora and re-signed Aaron Rozek and Chase Dawson.
Outfielder John Mora, a native of San Juan de la Maguana, Dominican Republic, is entering his 8th season of professional baseball, first with the Boomers. Mora had spent the previous 7 seasons in the New York Mets minor league system after signing as an International free agent in November of 2011. His last stop being with the Binghamton Rumble Ponies (AA) in 2018. Along the way, he had stops at the Dominican Mets (Rookie) in 2012 and 2013 and Gulf Coast Mets (Rookie) and Brooklyn Cyclones (Low A) in 2014. In 2014 with the Gulf Coast Mets, John hit .311 and had an OBP of .433 and 14 steals. In 2015, he made the jump to the Savannah Sand Gnats (A) where he hit .278, an OBP of .368 with 60 RBI's. The next two seasons he spent time with the St. Lucie Mets (High A) while also playing for the Las Vegas 51's (AAA), for 9 games. While with the Rumble Ponies, John hit .234 with 5 homeruns and 30 RBI's. Throughout his career, John has shown that he is a versatile outfielder, playing all three positions for every team that he played for.
"John Mora brings a wealth of experience to the club. It's always nice to have a guy that polished that can bring energy to the ball club from the offensive and defensive side every night," said Manager Jamie Bennett.
Starting pitcher Aaron Rozek will be back for his second season with the Boomers. The lefty finished 2019 with a 7-5 record, in 20 starts. Rozek pitched 120 innings striking out 99 batters. He had a season high 10 strikeouts in a 6-5 win at Windy City on August 27. Additionally, he won Frontier League Pitcher of the Week honors for the week ending May 26. He twirled the first complete game shutout of the season allowing only four hits in a 3-0 victory over Joliet.
"Aaron was the model of consistency for us last season. He has worked very hard to get where he is, and I think he and Tony (Smith) have made great strides to improve his game. We look for Aaron to be a solid guy for us in the rotation again," said Manager Jamie Bennett.
Infielder Chase Dawson will be back for his second season with the Boomers. Dawson was acquired from the Gary Railcats of the American Association on June 30. The first-year professional saw action in 41 games with the Boomers, primarily at second base. He had 27 hits in 146 at bats to go with 9 RBI's and 15 walks.
"I absolutely love the way Chase Dawson plays the game every day. He's still very young and learning some things but he is a very talented player that will bring some versatility and energy to the ball club," said Manager Jamie Bennett.
The Boomers 2020 season, presented by Wintrust Community Banks, begins May 14. The Home Opener is Friday, May 22 vs. Trois-Rivieres Aigles.
Season ticket packages and group and hospitality offerings for the 2020 season can be reserved by calling (847)-461-3695 or emailing [email protected].