Manager Jamie Bennett Inks Contract Extension; Larson Promoted to Vice President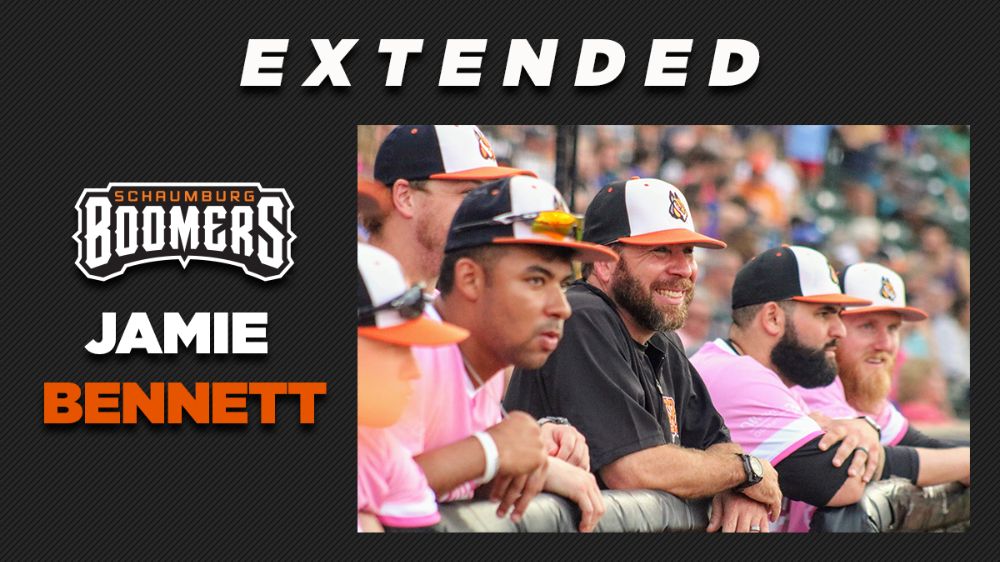 Manager Jamie Bennett Inks Contract Extension; Larson Promoted to Vice President
SCHAUMBURG, IL – The Schaumburg Boomers presented by Wintrust Community Banks, are pleased to announce Manager Jamie Bennett has signed a three-year contract extension and General Manager, Michael Larson has added the title of Vice President.
Bennett has a 413-365 record with the Schaumburg Boomers good for a .531 winning percentage over eight seasons. His Boomers teams have won three Frontier League Championships (2013, 2014, 2017). In addition, Bennett has been awarded the Roger Hannes Manager of the Year award twice (2013, 2017) and has been part of the All-Star game coaching staff four times (2012, 2015, 2016, 2017). The new deal will keep Bennett tied to the Boomers through at least the 2023 season.
Bennett is the only manager in Boomers history. He was hired in October 2011 prior to the start of the 2012 season after spending four and a half seasons as the pitching coach for the Gary Southshore RailCats. During his time with the RailCats, four of Bennett's pitchers went on to play for Major League organizations.
"I am honored and proud to continue to be a part of the Boomers family," said Bennett. I've been very fortunate to be surrounded by so many good people over the last 8 seasons. My family and I are thankful for the opportunity the Salvi's have provided and excited to continue to be associated with such an outstanding organization!"
"Jamie Bennett is one of the most successful and respected managers not just in the Frontier League but across all of independent baseball. While we missed having a 2020 season, we look forward to great seasons ahead in 2021 and beyond," said Schaumburg Boomers VP & GM Michael Larson.
Additionally, the Boomers are proud to announce Michael Larson has been promoted to Vice President while retaining his role as General Manager. Larson is in his third year with the organization after spending 10 seasons with the Fargo-Moorhead RedHawks of the American Association.
Since arriving in Schaumburg, Larson has helped win numerous awards including the Frontier League's Clint Brown Excellence in Marketing Award, Schaumburg Business Association (SBA) nominee for Business of the Year, and SBA's Rookie of the Year. He takes pride in the Boomers supporting the community through partnerships with local schools, libraries, and philanthropic organizations.
To stay up to date with all things Boomers baseball, follow the Boomers on social media and on www.boomersbaseball.com.