Boomers Hitting Coach Joining Twins Organization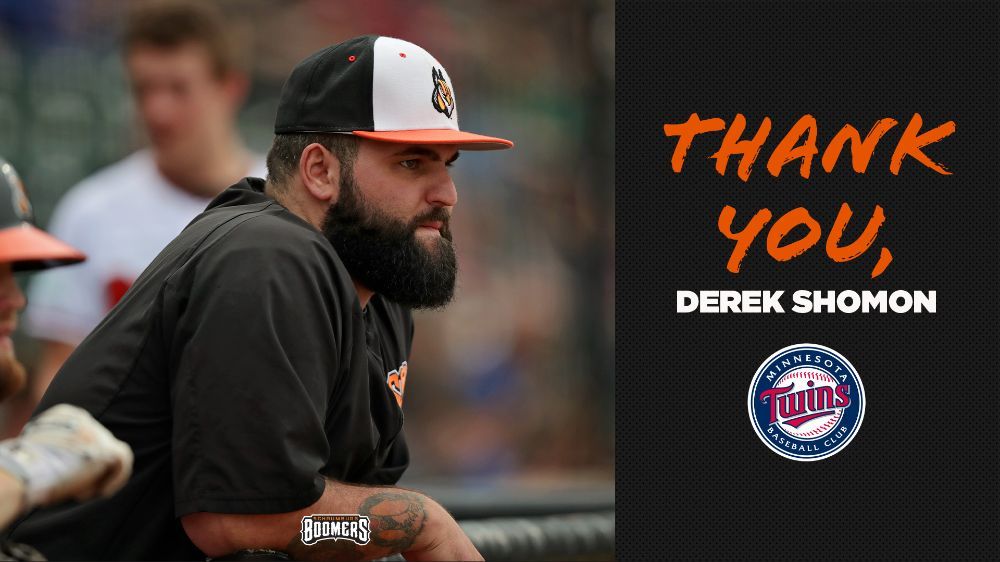 SCHAUMBURG, IL – The Schaumburg Boomers are pleased to announce Derek Shomon has been hired by the Minnesota Twins organization. Shomon will serve as a minor league hitting coach for the 2021 season.
Shomon began coaching with the Boomers during the inaugural 2012 season, serving as the team's bullpen catcher. He would spend the next five seasons in various roles including bullpen coach, bench coach, and strength and conditioning coach helping the team win two Frontier League Championships.
"I am really excited and proud to see Derek get this opportunity with the Twins," said manager Jamie Bennett. "I have known Derek since we began with the Boomers in 2012 and I'm proud to call him a true friend to myself and my family. He has worked very hard to get where he is today and is well deserving. He's one of those guys in baseball that "gets it". We will miss seeing him as often in Schaumburg, but he will always be a part of the Boomer family."
In June 2016 Shomon joined the Lake Erie Crushers staff along with original Boomer Cam Roth. Under Roth, he held the duties of catching and bullpen coach.
Derek returned to the Boomers in 2018 as bench coach a role he would hold until being named hitting coach for the 2020 season. As bench coach he primarily worked with the catchers where he helped catcher Nick Oddo put together back-to-back All-Star selections. First baseman Quincy Nieporte also benefitted from working with Shomon. Nieporte surged late in the 2019 season to become the Frontier League batting champion and broke the league record for RBI's in a single game with 10.
"Derek Shomon is a great leader on and off the field and we greatly appreciate everything he has done as a coach with the Schaumburg Boomers", said Boomers Vice President/General Manager Michael Larson. "While we don't like to lose a talented coach like Derek, we are excited to see him continue his career in the MLB affiliated system with the Minnesota Twins organization."
Shomon is the Co-Owner at Athletes HQ in Elgin, IL. He works with baseball and softball players at the youth, college, and professional.
To stay up to date with all things Boomers baseball, follow the Boomers on social media and on www.boomersbaseball.com.