Boomers Bolster Pitching Staff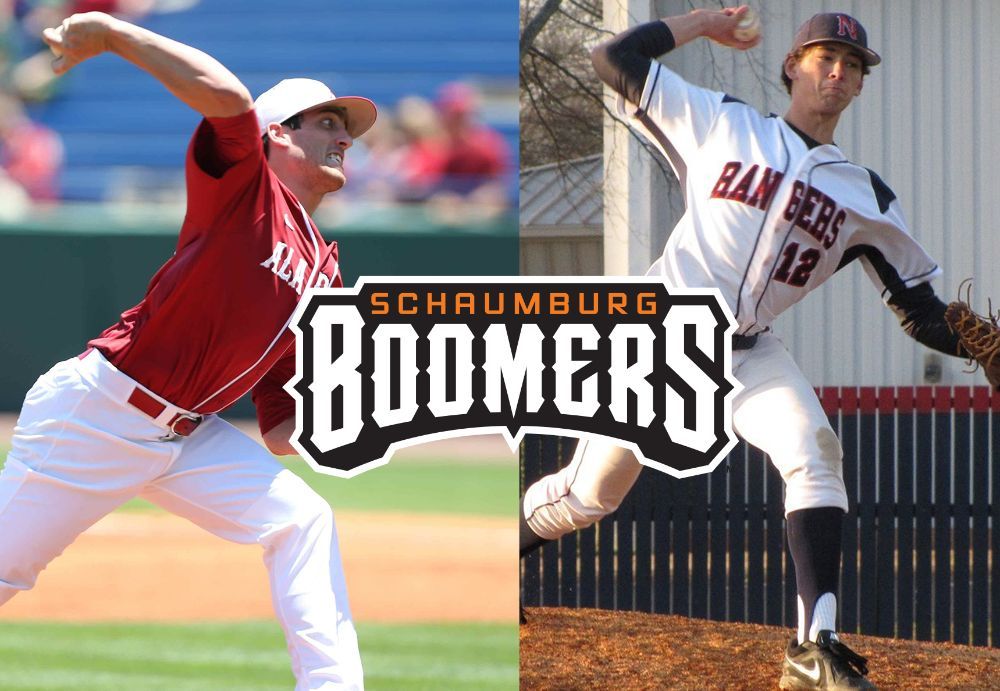 SCHAUMBURG, IL — The Schaumburg Boomers made a pair of trades with the Gateway Grizzlies to strengthen the pitching staff at the Frontier League transaction deadline on Monday.
The Boomers acquired RHP Geoff Bramblett and RHP Tanner Cable in separate moves. Bramblett has been a mainstay at the back end of the Gateway bullpen over the last two seasons but recently made a move to the starting rotation. Bramblett has pitched in 18 games this year, making five starts. The righty is 1-0 with a 1.66 ERA to go with eight saves in 38 innings of work. Bramblett has recorded 39 strikeouts and has limited opponents to a .176 average.
Since a full-time move to the rotation, Bramblett has allowed just five runs in 24 innings and has notched three consecutive quality starts. Bramblett struck out 11 in six innings against Joliet on August 11. Bramblett opened the nine with nine consecutive scoreless outings spanning 10 innings.
Bramblett allowed just three earned runs in an All-Star season in 2019, sporting a 0.50 ERA for Gateway with 61 strikeouts over 53.2 innings, saving 14 games and earning the . The Alabama native pitched in 44 games for the Grizzlies in 2019. Bramblett was drafted by the Royals out of the University of Alabama and pitched for three teams in two seasons with the Kansas City organization as both a starter and reliever. Bramblett finished 6-1 for Burlington in 2016 with a 2.17 ERA over 11 outings, 10 of which were starts. The fourth-year professional finished 18-9 over three years for the Crimson Tide and was named to the midseason watch list for the 2016 Golden Spikes Award given to the top college baseball player in the country.
To complete the Bramblett trade, the Boomers sent RHP Andrew Cartier to Gateway. Cartier pitched in 28 games out of the bullpen for the Boomers, notching a 2-1 record with a 4.56 ERA and 33 strikeouts in 25.2 innings of work. Additionally the Boomers will send a player to be named to Gateway.
able has recorded 45 strikeouts in 26.2 innings for Gateway over 28 appearances, all in relief. The right-hander is enjoying his best season in the league and owns a 1-2 record with an ERA of 2.03 to go with six saves. Cable has allowed just 13 hits. Cable has worked eight consecutive outings without allowing an earned run and has posted 15 outings with multiple strikeouts.
The lanky right-hander has been in the Frontier League since 2017, also pitching for the River City Rascals and Evansville Otters. Cable has pitched in three playoff games during his Frontier League tenure and was a member of the 2019 Frontier League champion River City Rascals. Cable has recorded 144 strikeouts in the Frontier League over 113.2 innings, a ratio of 11.4 per nine innings.
LHP Jesse Remington was sent to Gateway to complete the Cable trade. Remington was chosen at the Frontier League draft this year but was released by the Boomers in spring training before joining the team again on July 2. Remington was used as both a starter and reliever and pitched in 10 games, starting seven. Remington owns a 3-2 record with a 4.28 ERA in 40 innings of work.