Boomers Capture Game One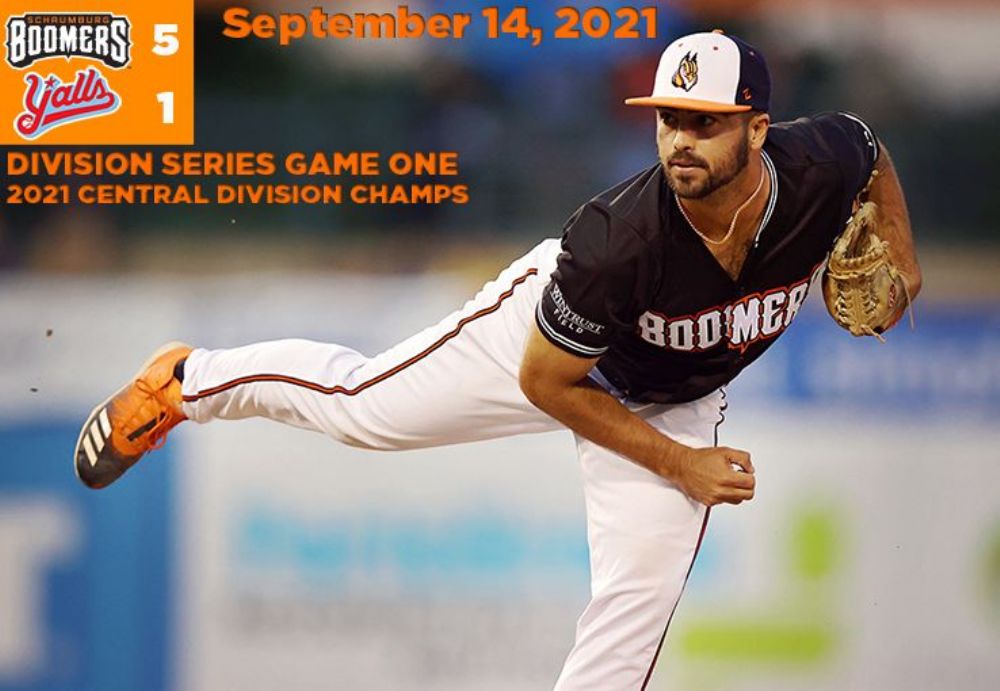 SCHAUMBURG, IL. — The 2021 Central Division Champion Schaumburg Boomers struck first to grab a 1-0 lead in the best-of-five Frontier League Division Series, scoring a 5-1 win over the Florence Y'Alls.
The Boomers set the tone early in the game. Kyle Arjona notched a 1-2-3 first and the team scored a pair of runs with two outs in the bottom of the inning. Matt McGarry recorded the first hit of the game, a single, and stole second. With two outs Frontier League MVP Quincy Nieporte singled sharply to left to score McGarry and moved to third on an error. Braxton Davidson made it 2-0 with a single to right.
Arjona retired the first five and left runners at first and third in the second. The Boomers pushed the lead to 3-0 without a hit in the fourth. Nieporte and Davidson drew back-to-back walks and Clint Hardy was hit by a pitch from Florence starter Jared Cheek to load the bases. Brett Milazzo skipped a fielder's choice up the middle to score Nieporte, making the score 3-0. Cheek allowed two earned runs in five innings but suffered the loss for the Y'Alls, who posted the best record in the league.
Arjona continued to deal, striking out the side in the top of the sixth before the Boomers scored two unearned runs in the bottom of the inning to lead 5-0. Davidson doubled with one out and Hardy reached on an error. Davidson scored on an error with Angelo Gumbs at the plate and Nick Oddo added a two-out RBI single. The Boomers scored four of the five runs with two outs in the victory.
Arjona worked into the eighth and allowed just a single run in the seventh, striking out eight while walking one and surrendering six hits. Jack Snyder retired all five batters faced in relief to earn the save, logging six outs against five hitters. Schaumburg finished with nine hits in the decision. Davidson reached base four times with three hits and a walk. Nieporte totaled two hits, a walk, an RBI and two runs scored.
The Boomers, who are 12-1 all-time at home in the playoffs, host game two of the series on Wednesday night at 6:30 p.m. RHP Geoff Bramblett (3-0, 1.86) takes the mound for the Boomers against RHP Johnathan Tripp (9-1, 4.15). Playoff tickets are on sale now! Visit boomersbaseball.com for tickets.