Boomers Swing to Game Three Win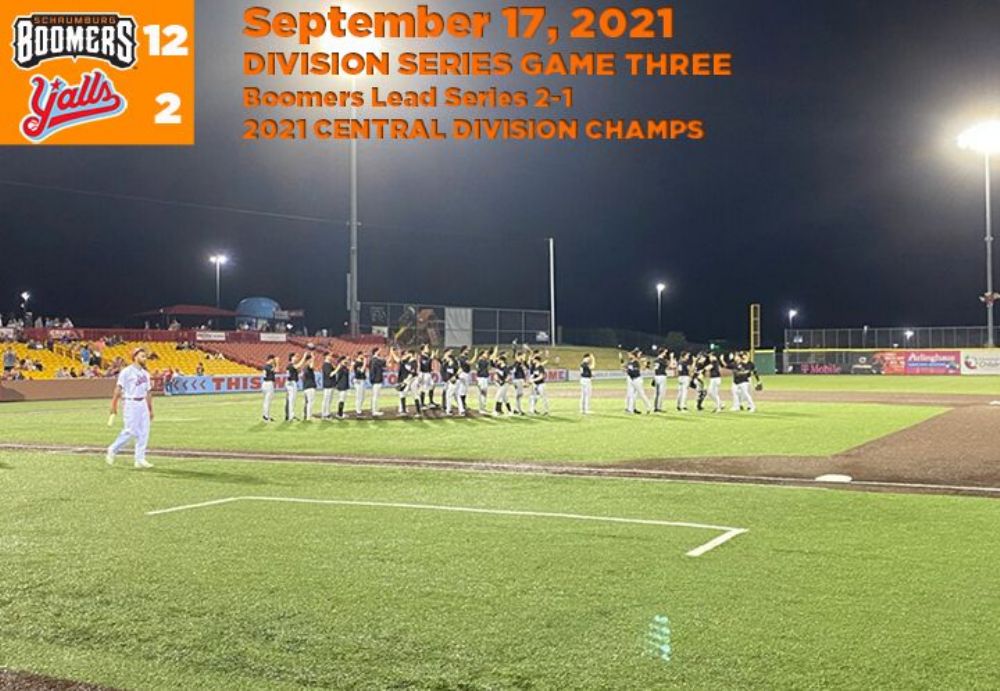 FLORENCE, Ky. — The 2021 Central Division Champion Schaumburg Boomers placed runners on base in all but one inning and Ryan Middendorf tossed a complete game as the team recorded a 12-2 win over the Florence Y'Alls to open a 2-1 advantage in the best-of-five Frontier League Division Series.
Luke Becker opened the scoring in the top of the second, stroking a two-run single. Nick Oddo followed with a two-run homer, the first of three hit by the Boomers in the win. Schaumburg placed five straight on base in the second. Angelo Gumbs dismantled a two-run homer in the third to push the margin to 6-0 and Matt Bottcher doubled home two in the fifth before scoring on an error as the advantage swelled to 9-0.
Middendorf retired nine straight from the second inning onward and did not allow a hit until the bottom of the fifth when Jordan Brower launched a solo homer. Quincy Nieporte blasted a solo homer in the sixth to make the score 10-1. Another run scored on an error in the seventh and Oddo added an RBI single as the Boomers led 12-1. Florence added a single runs with two outs in the bottom of the ninth.
Middendorf threw 111 pitches and allowed just four hits in the complete game effort before a section full of friends and family. The right-hander, who won 11 games during the regular season, is from West Chester, Ohio, less than an hour from Florence. Middendorf struck out seven while walking two and hitting one.
The offense slugged 16 hits in the game as eight batters posted a hit and seven scored a run. Nieporte, Clint Hardy and Gumbs all logged three hits. Hardy also stole a base while Bottcher reached base four times. The bottom five in the order accounted for 11 hits, 10 runs and eight RBIs.
The Boomers will have two chances to win the series beginning with game four tomorrow night at 6:00 p.m. Central in Kentucky. LHP Andrew Dean (5-10, 4.78) will make the start for Schaumburg. Dean has not faced Florence this season.