Boomers Homer to Game One Victory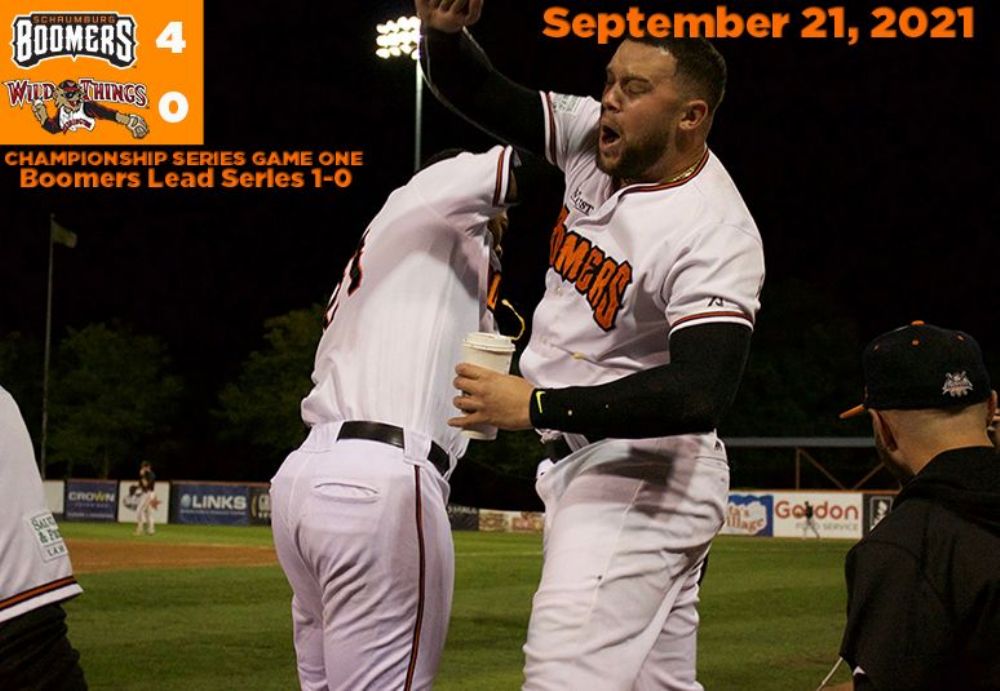 SCHAUMBURG, IL — The 2021 Central Division Champion Schaumburg Boomers hit three homers and rode 7.2 blank innings from Kyle Arjona to secure a 4-0 win over the Washington Wild Things in the opener the Frontier League Championship Series and grab a 1-0 series lead.
Arjona allowed just two runners to reach second base in the entire contest, striking out eight while allowing five hits. Washington also ran into three outs on the bases including a pair of runners caught stealing by Nick Oddo and an outfield assist from Clint Hardy.
The Boomers created plenty of chances early against the Frontier League Pitcher of the Year, Ryan Hennen, but did not break through until the fifth. Hardy led off the inning with a solo homer over the wall in right. With two away, Angelo Gumbs sent a liner into the right field corner that was out of the reach of a diving Bralin Jackson and Gumbs came all the way around on an inside-the-park homer.
Schaumburg was able to gain insurance in the seventh. Facing Washington reliever Kevin McNorton, Chase Dawson smacked a two-run homer to push the lead to 4-0. Darrell Thompson ended the eighth with a strikeout and Thomas Nicoll struck out the side in the ninth to hand the Boomers the game one victory. Hardy and Oddo both recorded two hits as the Boomers notched nine.
Schaumburg is in the championship series for the fourth time in history and will look for a commanding 2-0 series lead on Wednesday night with RHP Geoff Bramblett (3-0, 1.86) opposing Washington RHP Daren Osby (6-4, 3.76). Tickets are on sale NOW!! Visit boomersbaseball.com!