Boomers Bring Back Milazzo; Add Singh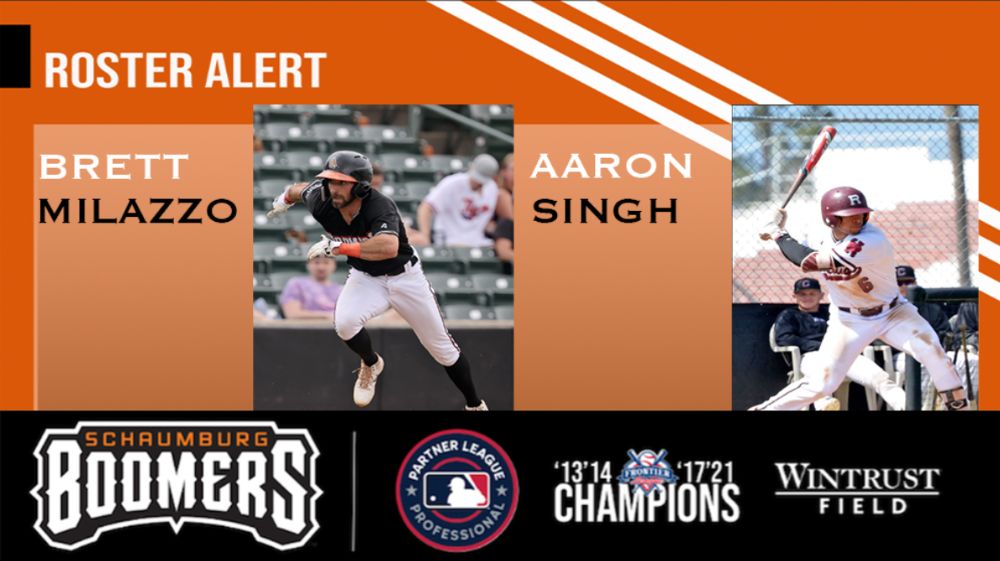 Schaumburg, IL – The Schaumburg Boomers have re-signed centerfielder Brett Milazzo and signed newcomer Aaron Singh. Milazzo and Singh are set to join the defending Frontier League Champs next year.
Centerfielder Brett Milazzo will be back for his second season with the Boomers. In the 2021 season, Milazzo batted .250 with a .363 on-base percentage in 68 games. The native out of Huntley, IL, played one season at the University of North Carolina - Asheville before transferring to University of Minnesota- Duluth.
"I am extremely excited to have Brett back with us. He is the epitome of a team player and is a positive influence on this club. He has the kind of speed that can change a game and is one of the fastest guys I've seen on a baseball field. We look forward to him making an even bigger contribution for us in 2022," said Manager Jamie Bennett.
The Boomers also have INF Aaron Singh on the roster for 2022. This will be Singh's first season with the club. Singh was a part of the University of Redlands baseball team, where he batted .344 with a .447 on-base percentage in 124 games during his college career. He was also named an ABCA All-American and an ABCA Gold Glove Winner. After his college career, Singh was a part of the Great Britain national team and the Acereros de Monclova baseball team.
"Aaron Singh had a very promising college career. He has shown ability offensively and is a plus defender on the field. He came highly recommended from a scout that I have long trusted. We look forward to seeing Aaron come in and compete for us," said Manager Jamie Bennett.
The Boomers return home to Wintrust Field in the spring, looking to defend their 2021 Frontier League Championship.
Season ticket packages and Group hospitality offerings for the 2022 season can be reserved by calling (847) 461-3695 or emailing [email protected]