Glickstein Selected as Pitcher of the Week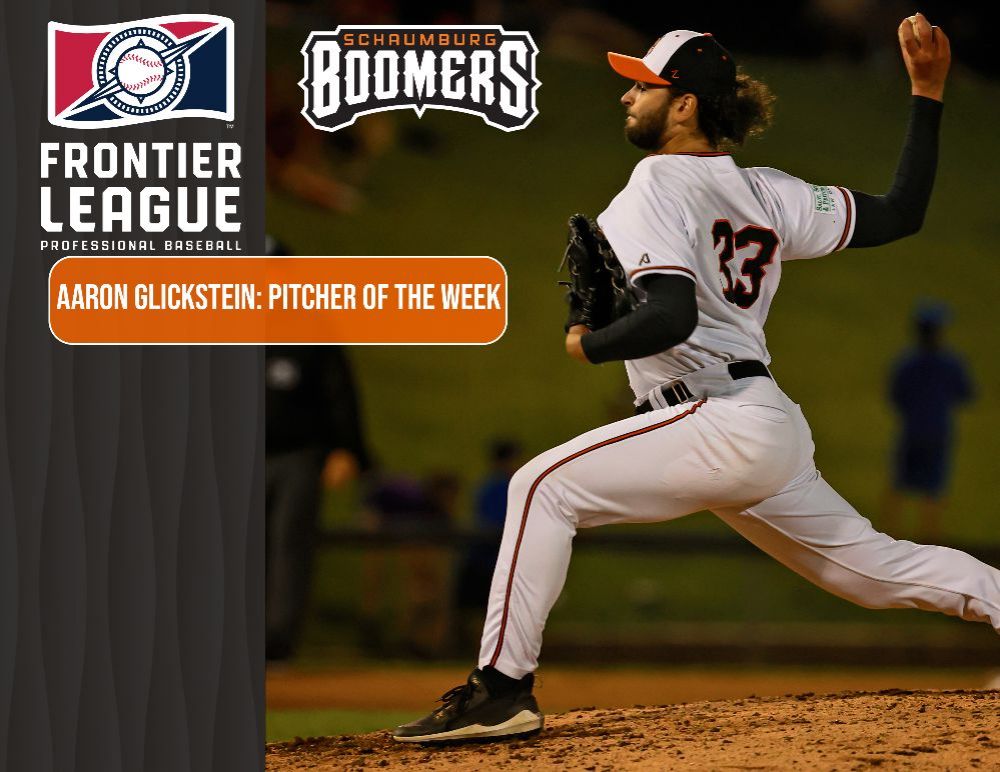 SCHAUMBURG, Ill. — The 2021 Frontier League Champion Schaumburg Boomers are proud to announce that right-handed pitcher Aaron Glickstein has been selected as the Frontier League Pitcher of the Week.
Glickstein made a pair of starts for the Boomers during the homestand, both of which resulted in wins for the team. Glickstein opened the homestand by pitching six innings against New Jersey in a 6-2 win, working six innings. The converted reliever allowed two runs on five hits with a walk and six strikeouts. Glickstein followed up the performance against New Jersey by working into the seventh on Sunday against Ottawa in a 3-1 victory. The New York native allowed just one run on six hits with a walk and seven strikeouts. For the week, Glickstein finished 1-0 in 12.1 innings with two walks and 13 strikeouts to go along with an ERA of 2.19.
The first-year member of the Boomers has started six games this season and owns a 3.56 ERA in 55.2 innings. Glickstein joined the rotation on June 25 with a spot start after appearing 14 times in relief. Glickstein has walked just seven batters on the season to go with 67 strikeouts for a 9:1 strikeout-walk ratio.
The product of Stony Brook University is in his second season in the Frontier league after being chosen by the Lake Erie Crushers in the Frontier League Draft last season. Glickstein pitched 31 times for Lake Erie with six starts, finishing 5-4 with a 4.10 ERA in 68 innings with 62 strikeouts.
Glickstein is the first award winner of the year for the Boomers, who head into the first week of August with a 34-30 record. The Boomers totaled a 15-9 mark in the month of July. The team will make a three-game visit to Florence, Kentucky this week. The team returns home for another six-game homestand on August 5. Tickets for the 2022 season are on sale now! Visit boomersbaseball.com.