Bennett Adds Four to 2023 Roster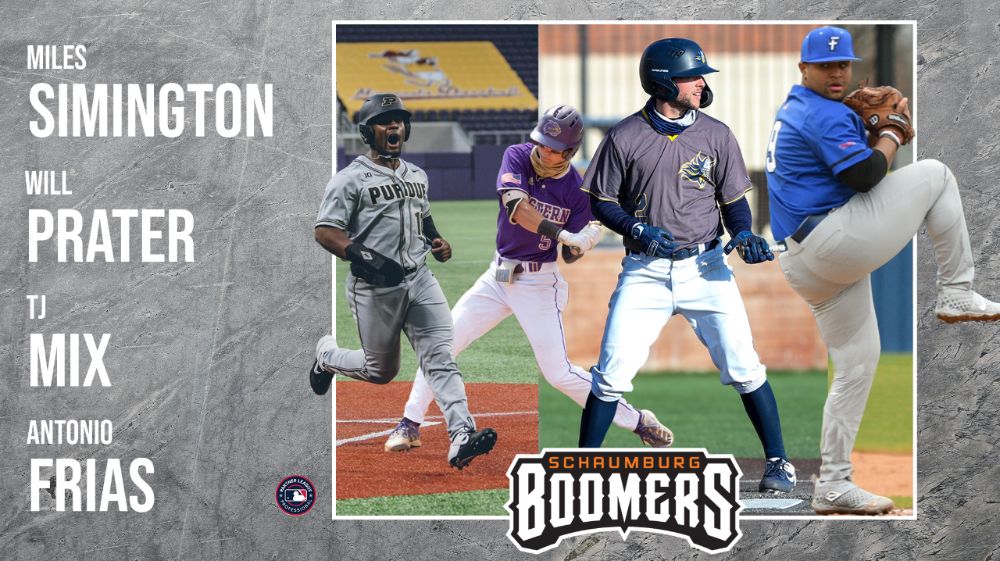 Schaumburg, IL-The Schaumburg Boomers and Manager Jamie Bennett have added to the 2023 roster with the addition of Miles Simington, Will Prater, TJ Mix, and Antonio Frias.
Miles Simington comes to the Boomers from the University of South Alabama. Simington was an outfielder who hit .383 with 7 HR and 53 RBI's in his one year at USA. Prior to his time at South Alabama, Miles played for the Boilermakers of Purdue University. Most recently, he played for the State College Spikes of the MLB Draft League in 2022. Miles is a native of Kankakee, IL
Infielder Will Prater arrives in Schaumburg after five seasons at Western Carolina. During his time at WCU, Will hit for an average of .323 with 12 triples and 116 RBI's in his career. In 2022, he hit for .332 with 2 HR and 45 runs batted in. The Dallas, Ga native spent the summer of 2022 with the Mahoning Valley Scappers of the MLB Draft League and the Rockford Rivets of the Northwoods League.
Middle Infielder JT Mix has spent the past 5 seasons at Augustana University in Sioux Falls, SD. While at Augustana, Mix was all over the base paths with 42 stolen bases and 99 walks in his career. He also hit for an average of .315 with 7 triples and 114 RBI's. Mix also played a year of summer ball with the Sioux Falls Sunfish in the Expedition league where he stole another 20 bases and walked 32 times.
Pitcher Antonio Frias, originally from Panama, played his collegiate baseball at Faulkner University. During his 3 seasons with the Eagles, Frias posted a record of 27-3 with a career ERA of 2.78. This included his 13-0 season in 2021. He had 138 strikeouts to 35 walks in that season. Frias finished his career with 300 strikeouts over 210 innings pitched.
Ticket Packages and Group Outings are available for the 2023 season, which can be reserved by calling (847)461-3695 or emailing [email protected]