Boomers Sign Pair of Newcomers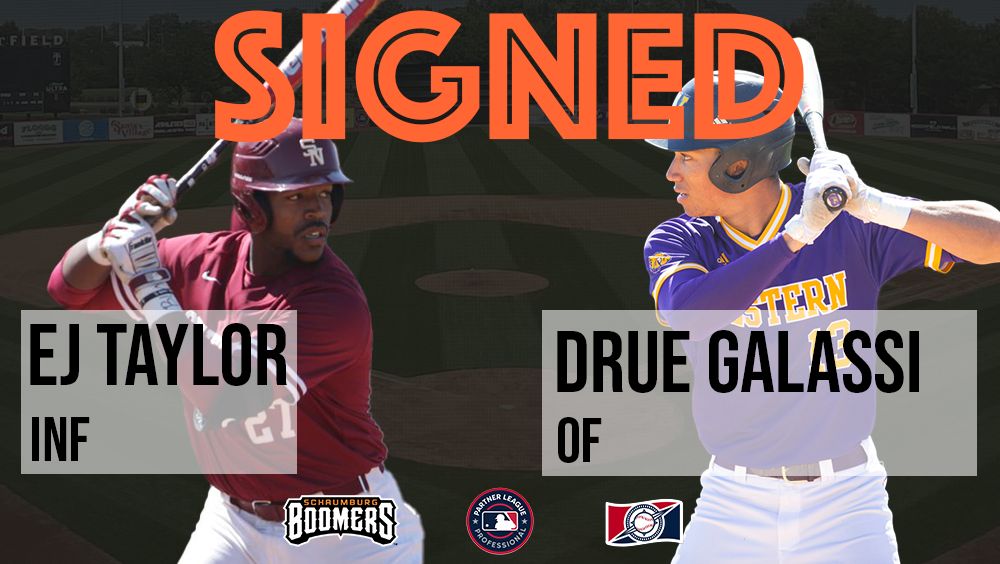 Schaumburg, IL - The Boomers have signed a pair of newcomers in outfielder Drue Galassi and infielder EJ Taylor for the 2023 season.
Drue Galassi comes to the Boomers after 4 years at Western Illinois and 1 year at Lenoir-Rhyne. During his 4 years at Western Illinois, the Peoria, IL native, Drue hit for an average of .264 with 22 homeruns and 113 RBIs for his career. He had career highs in 2019 when he hit 10 homers and drove in 51 runs.
Galassi finished off his collegiate career at Lenoir-Rhyne University in Hickory, NC. While playing for the Bears, he hit 15 homers and drove in 31 while hitting for an average of .345. Drue also swiped 13 bases on the season in 2021.
Drue spent the last two years in the USPBL with the Utica Unicorns. In his two seasons with the Unicorns, Galassi hit 18 homeruns and drove in 61 runs. In 2022, Drue was the league MVP and Defensive Player of the Year.
EJ Taylor makes his way to Schaumburg after a successful summer as a part of the MLB Draft League with the Williamsport Crosscutters.
With the Crosscutters, EJ drove in 31 runs while hitting .283 in 33 total games. In those 33 games, Taylor hit 3 triples and 3 homeruns.
Prior to his time in the MLB Draft League, EJ played two years at Southern Nazarene University, where he was a 2-time All-American for D2 JUCO. With the Crimson Storm, EJ hit 22 homers and drove in 76 runs while averaging .382 for his career.
Ticket Packages and Group Outings are available for the 2023 season, which can be reserved by calling (847)461-3695 or emailing [email protected]