Boomers Re-Sign Trio of Arms for 2023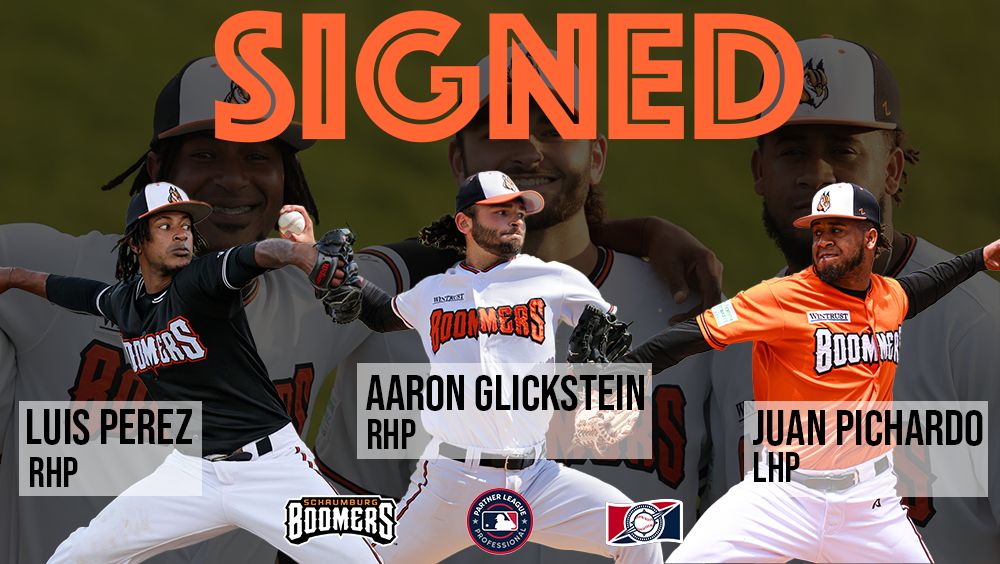 SCHAUMBURG - Manager Jamie Bennett has re-signed pitchers Aaron Glickstein, Juan Pichardo, and Luis Perez for the 2023 season. Both Aaron and Juan were a part of the 2022 Frontier League West Division Championship Team.
Aaron Glickstein was a member of the starting rotation for the Boomers during the 2022 Season, posting a record of 7-6 with a 4.29 ERA. Aaron appeared in 28 games for the Boomers, totaling 94 innings pitched. During those innings, Glickstein struck out 99 batters and only walked 17.
He was named as the Frontier League Pitcher of the Week for the last week of July, Over the course of that week, he went 1-0, working 12.1 innings, striking out 12 batters and only walking two in two starts.
Aaron is originally from Dix Hills, NY and played his college baseball at Stony Brook University in Stony Brook, NY. Aaron joined the Boomers in 2022 after spending a season in the Frontier League with the Lake Eries Crushers.
Juan Pichardo returns to the Boomers pitching staff after a 2022 season, in which he appeared in 25 games. Pichardo finished the season 2-1 with 40 strikeouts over 32 innings. Prior to his time with the Boomers, Juan spent the 2021 season with the Fort Myers Mighty Mussels, A-ball for the Minnesota Twins. Juan is a native of Santiago, Dominican Republic.
Luis Perez is back for his first full season with the team as he was acquired during the 2022 season after spending the beginning of the season with the Gastonia Honey Hunters of the Atlantic League. During the 2022 season, Luis finished with a 1-0 record. He appeared in 13 games and tossed 26 innings. In those 26 innings Perez struck out 19. Luis looks to bring his experience from his time in the Baltimore Orioles minor league system to the Boomers Bullpen.
Ticket Packages and Group Outings are available for the 2023 season, which can be reserved by calling (847)461-3695 or emailing [email protected]