Shears Joining Brewers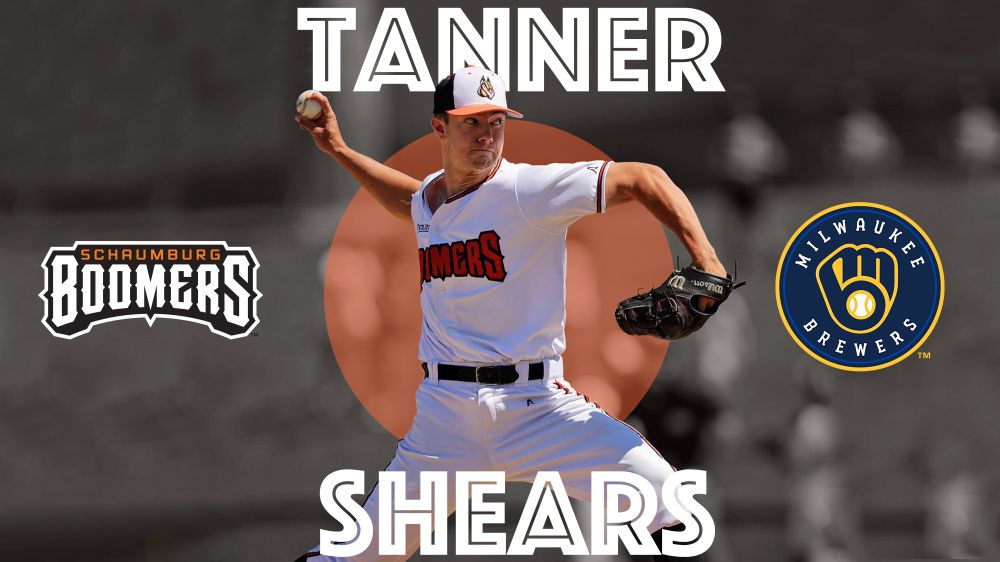 SCHAUMBURG, IL. — It is with great pleasure that the four-time Frontier League Champion Schaumburg Boomers announce that another member of the 2022 bullpen has had their contract purchased as Tanner Shears becomes yet another pitcher headed to the Milwaukee Brewers.
"I am very excited for Tanner," manager Jamie Bennett said. "He had a fabulous rookie season for us and has continued to get himself better this offseason. He is a great teammate and hard worker and is very deserving of this opportunity."
Shears arrived in Schaumburg after making just one career appearance in the professional ranks and saw his role grow with the team, becoming a key late-inning piece of the bullpen for a team that reached the Frontier League Championship Series. The University of Illinois-Chicago product made 21 appearances for the Boomers and sported a 2-0 record with a 1.02 ERA. Shears fanned 44 in 35.1 innings of work, helping the pitching staff set team and league single season records for strikeouts. Just twice among his 21 outings did Shears fail to record a strikeout while fanning multiple batters on 16 occasions.
Shears made his Schaumburg debut on June 14 and posted five holds during the season, fourth on the team. The right-handed pitcher was used in many roles including long man, specialist, bridge and set up. Shears struck out the side in the eighth inning at Florence on August 2 and again in the eighth against Washington on August 24. During his first season with the Boomers, Shears struck out five in a career high 3.1 innings against Joliet before throwing a career best 3.2 innings four outings later against Lake Erie. Shears worked long than an inning on 10 occasions. Shears saved seven games as a senior at UIC in 2021. The Boomers have signed several players from UIC throughout the team's history.
Shears is now the fifth recent member of the Boomers to join the Brewers. Reliever Jake Cousins, who pitched for the Boomers in 2019, became the first player from Schaumburg to reach the big leagues when he debuted for the Brewers in 2021. Cousins was on the opening day roster for the Brewers in 2022 before suffering an injury that cost him most of the year. Ryan Middendorf had his contract purchased by the Brewers during the 2022 season and advanced from Arizona all the way up to Double-A Biloxi. Middendorf was selected by the Brewers to pitch in the Arizona Fall League where he is currently playing for the Glendale Desert Dogs. Darrell Thompson had his contract purchased by the Brewers in the fall.