Stutsman Returns to the Mound; Yoshikawa Re-Signs for 2023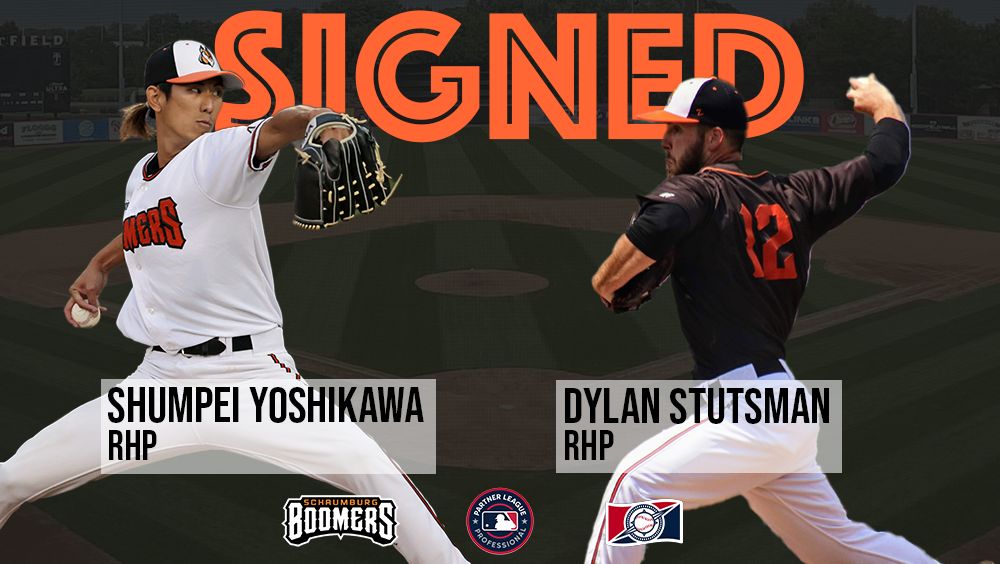 Manager Jamie Bennett has re-signed pitchers Dylan Stutsman and Shumpei Yoshikawa for the 2023 Frontier League season. Both were vital pieces to the 2022 Western Division Champs in 2022 in their roles.
Dylan Stutsman returns to the Schaumburg Boomers bullpen as a pitcher for the 2023 season after spending the last two seasons as the Boomers Pitching Coach. Dylan joined the coaching staff at the beginning of the 2021 season as he rehabbed from an elbow injury. During his 2019 season, Stutsman posted a 6-3 record with a 2.40 ERA. Dylan struck out 67 batters over 48 innings. Dylan, a native of Bloomington, IN played his college baseball at the University of Indianapolis. While at UIndy, Stutsman had a career record of 13-5 with a 3.15 ERA. In his 84 appearances, he struck out 134 batters over 140 innings.
As the pitching coach for the Boomers, Dylan has seen several of his pitchers get their contracts purchased by MLB teams. These players include Ryan Middendorf, Darrell Thompson, Tanner Shears, Jack Snyder, Aaron Rozek, Isaiah Rivera, and Orlando Rodriguez. "We are excited to get Stutsman back on the mound for us. He has been a vital part of this bullpen in the past and as a part of the staff last season. He provides us with a great arm in the back end of the bullpen and as another leader for this club" said Manager Jamie Bennett.
Shumpei Yoshikawa is back for his second season in Schaumburg following a solid first season. In 2022, Shumpei had a 7-9 record with an ERA of 5.43. Over his 114 innings, Yoshikawa struck out 117 batters, setting the single season franchise record for the Boomers and good for T-5 in the Frontier League for 2022. Shumpei, who is from Osaka, Japan, began his professional career with the Arizona Diamondbacks in their minor league system with stops at the Vasalia Rawhide and Hillsboro Hops. Shumpei looks to be a primary piece in the starting rotation in 2023.
Ticket Packages and Group Outings are available for the 2023 season, which can be reserved by calling (847)461-3695 or emailing [email protected]