Boomers Secure Home Field Advantage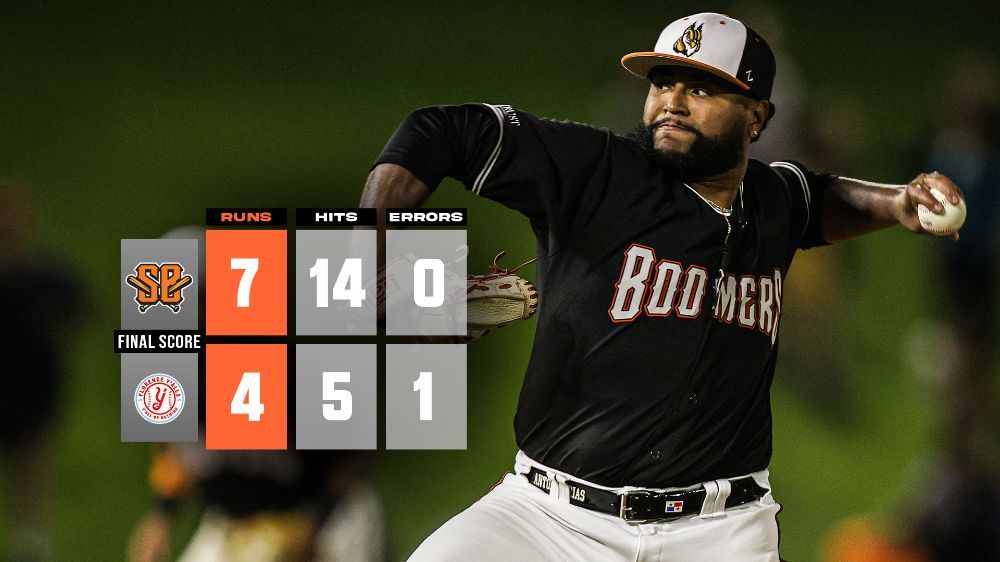 FLORENCE, Ky. — The Schaumburg Boomers ended a frustrating visit to Kentucky on a high note, scoring a 26th comeback win behind a four-run eighth in a back and forth affair to topple the Florence Y'Alls 7-4 and secure homefield advantage in the Frontier League's West Division Wild Card Game on Tuesday.
The Boomers struck first for the first time in the series, grabbing their first lead of the week in the top of the first. Chase Dawson led off with a double to right, his 20th of the year, and scored on a sacrifice fly from Kokko Figueiredo. Florence tied the game with a single run in the third. Blake Berry opened the fourth inning with a double and scored on the third consecutive hit of the frame, an RBI single from Alec Craig as the Boomers opened a 2-1 edge. Florence was finally able to break through in the sixth inning, scoring three times on three hits to take a 4-2 lead. The Y'Alls had managed just one hit to that point of the contest.
The Boomers consistently put runners on base but could not find a way to score until the top of the eighth, taking advantage of an error to score four times and grab a 6-4 lead. With runners at first and second and no one out a bunt was thrown into right to allow the first run to score. Pinch hitter Blake Grant-Parks tied the game with a groundout. Dawson doubled home the go-ahead run and Figueiredo dropped down a safety squeeze to cap the scoring in the frame. Craig tripled home an insurance run in the top of the ninth.
Antonio Frias worked into the sixth for the Boomers and tallied double-digit strikeouts for the second time this year by striking out 10 while issuing three walks and allowing four runs on four hits in a no-decision. Jake Joyce earned the win with two scoreless frames. Kristian Scott earned his fourth save in as many chances since moving into the closer role, punctuating the victory with a strikeout, the 14th of the night for the Boomers. Schaumburg totaled 14 hits in the game. Dawson, Craig and Kyle Fitzgerald totaled three each.
The Boomers (53-39) have secured a playoff slot for the third consecutive year and will host either Evansville or Washington on Tuesday night. The team will begin the final series of the regular season at Wintrust Field on Friday night against the Evansville Otters in a preview of the Wild Card Game on Tuesday. LHP Juan Pichardo (2-0, 5.33). The contest will feature one of the final postgame fireworks displays of the year. Don't miss out on your chance to catch the Boomers before the year ends. Visit boomersbaseball.com or call 847-461-3695 to secure your tickets.