Boomers Re-Sign Middendorf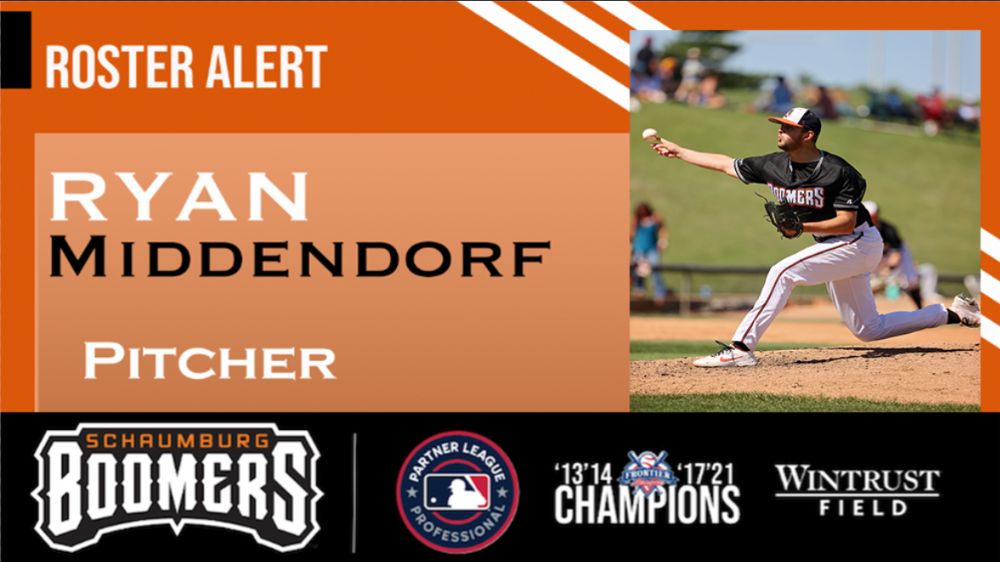 Schaumburg, IL - The Schaumburg Boomers have re-signed starting pitcher Ryan Middendorf. Middendorf was a key member of the 2021 Frontier League Championship rotation and will be back for his second season with the Boomers.
Middendorf was signed at the beginning of the 2021 season and appeared in 19 games and innings (117.1). Middendorf struck out 90 batters in those innings pitched with an ERA of 3.14, all as a starter. Middendorf will join other fellow re-signed teammates on Bennett's pitching staff in 2022. Middendorf shined in the playoffs going 1-0 with a 1.12 ERA in two post-season starts.
"We are extremely excited to have Ryan back with us. He is a key part of putting this rotation together. He showed a lot of improvement last year and has shown he can pitch under pressure. He is an absolute competitor," said Manager Jamie Bennett.
Middendorf attended Lake Erie College, located in Painesville, Ohio. He played four seasons for the Cyclones baseball team. He played in 48 games in his college career, recording an ERA of 6.13 to go along with 168 strikeouts in 198.1 innings pitched. In 2019, Middendorf was named All-Conference second team in the Great Midwest Athletic Conference.
The Boomers Return home to Wintrust Field in the spring looking to defend their 2021 Frontier League Championship.
Season ticket packages and group hospitality offerings for the 2022 season can be reserved by calling (847)461-3695 or emailing [email protected]